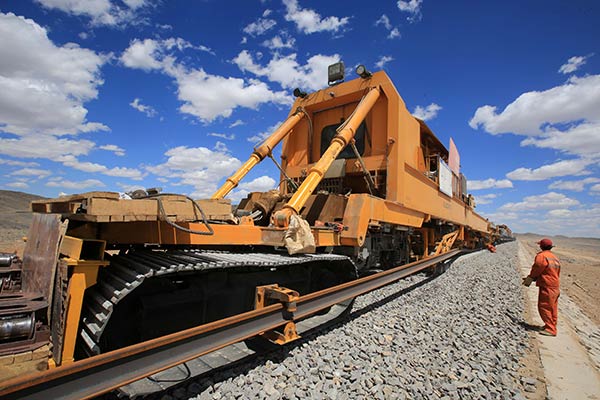 A worker monitors a track laying machine in a construction site of a railway project in Hami, Xinjiang Uygur autonomous region.[Provided to China Daily]
Global-minded Chinese manufacturers and infrastructure companies can reap big dividends and minimize business risks by investing directly in markets covered by the Belt and Road Initiative, said experts in international corporate and trade laws.
The trade-and-infrastructure network, proposed by President Xi Jinping in 2013, envisages a Silk Road Economic Belt and a 21st Century Maritime Silk Road, covering about 4.4 billion people in more than 60 countries and regions in Asia, Europe and Africa.
As Chinese enterprises are "proficient and experienced" in carrying out various projects in developing markets, direct investment in these countries will given them advantage over their competitors from other countries, said Elaine Lo, chairwoman of Asia operations of the Hong Kong-based global law firm Mayer Brown JSM, which employs more than 1,500 lawyers and has offices in 22 cities across the Americas, Europe and Asia.
To be sure, countries such as Germany, France, Singapore and Malaysia along the two trading routes already have better infrastructure and industrial foundations to fuel their economic growth. But for several others, development of infrastructure remains key.
For example, smaller economies such as Laos, Cambodia and the Central Asian countries not only want to export more agricultural and mining products to China but want Chinese investment to accelerate industrialization, urbanization and development of their transport networks.
Lo said unlike in mature markets such as the United States or the United Kingdom, conducting merger and acquisition activities in certain developing markets along the Belt and Road Initiative may cause bigger risk. For, many Chinese companies are not familiar with local legal and commercial environment, and profitability models.
Other challenges include limited capacity to organize and coordinate commercial, legal, financial and human resource diligence.
Terence Tung, partner with Mayer Brown JSM in Beijing, said because of different languages and mindsets across the regions, reliable advice and authentic information from local financial and legal professionals are of paramount importance for overseas companies doing business in countries covered by the Initiative. That could help in taking timely investment decisions in Central Asia, Southeast Asia, the Middle East and Africa.
Chinese companies already have a high chance of securing contracts for infrastructure and industrial projects as they enjoy the support of financial institutions such as the Asian Infrastructure Investment Bank and the Silk Road Fund, as well as governmental agreements. Hence, they should boost their chances even further by relying on experienced legal brains, experts said.
To achieve the regional integration vision proposed by Belt and Road, China has already deployed funds totaling around $100 billion. Of which, $40 billion has gone into the Central Asia-focused Silk Road Fund.
Another key factor to review is Chinese companies' concentration of the decision-marking power in their headquarters, experts said.
On-field due diligence teams are "insufficiently empowered", said Ding Rijia, a professor at the China University of Mining and Technology in Beijing.