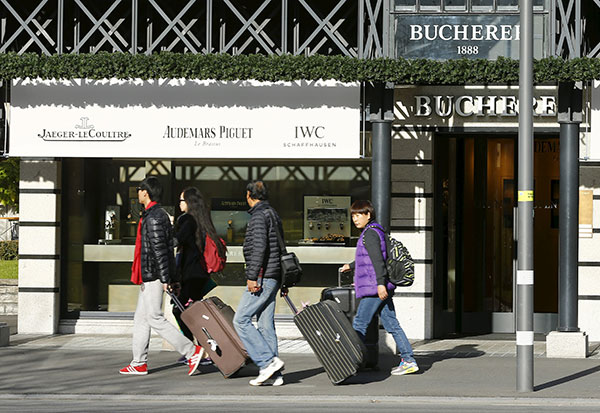 Asian tourists walk past a luxury watch shop in the alpine resort at Interlaken, Switzerland, Nov 17, 2015. [Photo/Reuters]
Switzerland's strong franc has driven French and German skiers and hikers away. But in the Alpine resort of Interlaken, perched beneath Europe's highest railway station on the Jungfraujoch glacier, a new kind of tourist has arrived from further afield.
Chinese are buying Swiss watches. Emiratis are enjoying hallal barbecue cruises on the clear Alpine waters of Lake Thun.
The top four sources of visitors after the Swiss themselves are now China, the Gulf countries, South Korea and India. European countries are out of the top five, probably for good, says tourism director Stefan Otz.
The town of 6,000 began courting Asian visitors two decades ago, giving it a head start over rivals. Now, it counts on an annual "Ramadan bump".
Overnight stays by Gulf country visitors were up by nearly half in Interlaken from July through September compared to the same period last year, thanks in part to lures like prayer rooms and Arabic-speaking hotel staff.
Branding the 3,500-meter high glacier pass as the "Top of Europe" has helped transform it into a must for Asian visitors. Jungfraubahn Holding, which runs the railway up the mountain, increased its half-year earnings in 2015 despite lagging ski ticket sales and fewer EU visitors.
Chinese popstar G.E.M. performed a concert at 3,454 meters atop the Jungfraujoch glacier this summer. Local officials and show sponsor Tag Heuer, the watchmaker, hope a broadcast in China boosts the region's appeal.
Jehovah's witnesses offer pamphlets in Chinese between Interlaken's most famous watch shop and its bus depot, waiting for the 200-300 Chinese visitors who arrive each day. They cannot read the hanzi characters on the forms, they said, but have learned a few phrases in Chinese.
The China tourism boom helped the world's biggest watchmaker, Swatch Group, boost sales by half in July and August in tourism hot spots Interlaken and Lucerne, Chief Executive Nick Hayek told the newspaper Tages-Anzeiger.
Interlaken's advances contrast with other Swiss Alpine destinations like jetset favorite Saint Moritz and World Economic Forum home Davos, where overnights are falling. For the traditional European winter sports market, the resorts of France, Austria or Italy can provide more up-to-date amenities as well as better value.
"In the last 20 years, Switzerland has made too few changes. It's made too few developments to meet the needs of new guests," said Urs Wagenseil, professor at Lucerne University of Applied Sciences and Arts' tourism institute. "To say, 'It's gone well until now. It will be enough in the future,' simply won't do anymore."
But tourism can work at Switzerland's price levels, given the natural audience for its extraordinary landscape. Urs Grimm, director of Interlaken's flagship five-star Victoria-Jungfrau Hotel, said the challenge is creating an experience, which the Swiss can still deliver.