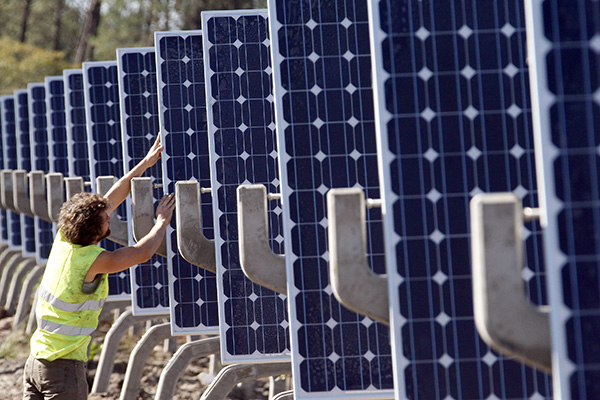 An employee adjusts solar panels at the Gabardan solar energy plant in Losse, southwestern France. [Photo/Agencies]
China General Nuclear Power Group, the country's biggest nuclear power reactor operator, has outlined its plans to become the largest solar energy distributor in France.
CGN will enter the French solar power sector through its subsidiary CGN Europe Energy, and join hands with French solar energy company Inovia Concept Development to build distributed solar energy generators across France in the next few years.
The French side will be in charge of construction and maintenance of the solar power facilities, according to ICD Chief Executive Johnny Schlomacher. According to him, the Chinese company bagged the project despite competition from a Germany company.
"The cooperation has a significant meaning to Chinese enterprises and is also a milestone for the China-France renewable energy partnership," said Lu Wei, general manager of CGNEE.
"It will enable us to build power stations which will have installed capacity of 500 megawatts of solar energy in the next few years and add as many as 3,000 direct and indirect jobs in France," he said.
Lu explained that in the last 30 years, his company has established strong ties with French companies for energy cooperation, especially nuclear power plants.
"Our new goal is to make CGN a world-class energy group by developing both renewable energy and nuclear power, and proactively participate in international competition," said Lu.
CGN is the pioneer and a good example of China's State-owned companies competing in the French market, Lu said. It has already cooperated with French companies to develop the third party market, such as in Africa.
This is not the first clean energy project that CGN is participating in Europe.
In 2014, its French unit signed a deal for an 80 percent stake in three wind farms in Eastern England owned by French electric utility company Electricite de France SA, which will generate 72 mW of power.
Earlier this year, in February, the company won the bid for the Fujin Onshore Wind Power Project in France and completed an equity transfer deal with Eolfi, a new-energy company from France.