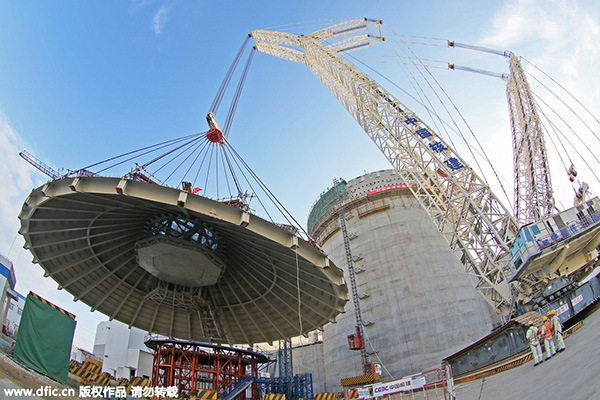 A containment dome for the No 2 nuclear island is being lifted and installed at the Haiyang Nuclear Power Plant in Haiyang city, East China's Shandong province, Sept 12, 2015. [Photo/IC]
China General Nuclear Power Group, the country's biggest nuclear power reactor operator, has signed a $7.7 billion agreement to set up two nuclear reactors in Romania.
The memorandum of understanding, signed on Monday between CGN and Romanian state-owned nuclear company Nuclearelectrica SA, is for the unit 3 and 4 of the Cernavoda nuclear power plant in the European country. The agreement covers investment, funding, construction, operation and decommissioning, a CGN statement said.
CGN will also form a joint venture with Nuclearelectrica, and the venture will be the only platform to work on the nuclear projects in Romania, according to the statement.
Sources from CGN said the two reactors will be probably owned by the new venture, in which CGN is likely to hold a controlling stake of 51 percent and Nuclearelectrica the rest.
The two reactors at the Cernavoda station, about 48 kilometers west of the Black Sea, will continue to use CANDU 6, a 700-megawatt heavy-water nuclear reactor model, developed by Canadian Candu Energy Inc, the same nuclear technology used in unit 1 and 2, which went into service in 1996 and 2007, respectively.
Romania is looking to further develop its nuclear capability, which accounts for 18 percent of the country's total power consumption.
But the country failed to meet that target since 2010 when Czech power group CEZ, a major investor in the Cernavoda project, and other three companies withdrew due to the European debt crisis and poor market outlook, earlier reports said.
CGN started to explore the nuclear market in Romania since then and signed a letter of intent to develop the Cernavoda project in 2013. CGN was selected as the only prospective investor for the project a year later.
"We will move forward on the Romanian nuclear project step by step, together with our partners from Romania, Canada and other countries in Europe," said He Yu, chairman of CGN.
The accord came after CGN and French utility company Electricite de France SA inked an agreement to build three new reactors in the United Kingdom.
Though Cernavoda unit 3 and 4 will not use China's homegrown nuclear technology, and the project excludes exports of key components, CGN hopes to use it as a springboard to tap into other nuclear markets in Europe, experts said.