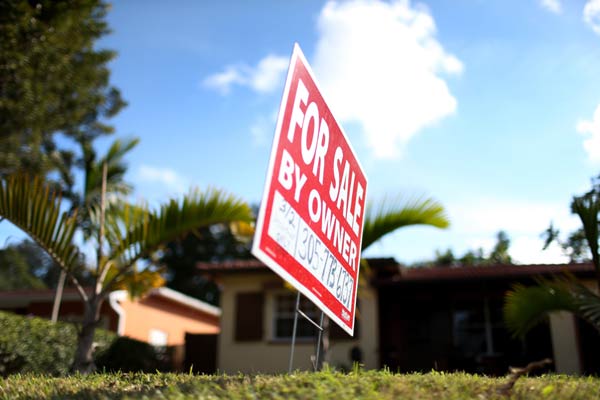 A for-sale sign in front of a house in Miami, Florida. An increasing number of Chinese are buying properties in Miami, attracted by its clean beaches and tropical climate. [Photo/Agencies]
The Chinese will continue to seek overseas real estate, especially in the United States, said the co-founder of Juwai.com, a website that helps buyers from China find overseas properties.
Simon Henry helped to create Juwai in 2011. Although the financial crisis appeared to be over by the end of 2010, most countries were still in recession, Henry said in an interview on Monday.
"China was the one country that had a lot of cash," Henry said. Working in Hong Kong Special Administrative Region, he and his partners developed an online platform to connect Chinese buyers with global properties. The company generates revenue from agents and brokers who list properties for sale on the website.
Despite last summer's stock market turmoil and slower-than-expected economic growth, Henry said there is no shortage of Chinese buyers for real estate in the US, Canada and other nations.
"China's government is now aiming for 6.5 percent annual growth in gross domestic product, which would be the envy of just about any other country," Henry said. "We are not seeing any impact (from economic issues) at all, and we expect an escalation of buyers. We look at outbound travel and other categories. The buying power of the Chinese consumer is still very strong."
Henry said that in 2010, buyers from the mainland, Hong Kong and Taiwan acquired $5 billion in overseas real estate. In 2014, that number jumped to $52 billion and is expected to grow to $220 billion by 2020.
"Most investors in China are already property-rich. They are seeking diversification," Henry said.
Henry said Juwai is an educational resource in addition to being a property marketplace.
"We have full-time staff writing thousands of articles about international property investment," he said. "We knew we were dealing with an emerging market and they needed to be educated."
About 70 percent of Juwai's users are from the mainland, Hong Kong and Taiwan, and about 30 percent are Chinese living overseas.
Henry said the US remains the top destination for Chinese property buyers. He cited a survey from the National Association of Realtors (NAR) showing that Chinese buyers have replaced Canadians as the most dominant foreign-home purchasers in the US.
Homebuyers from China comprised 16 percent of international buyers who purchased single-family homes and condominiums in the 12-month period ending last March, up from 12 percent in 2013, according to the NAR. Canadians made up 14 percent of international buyers, down from 23 percent in 2013.
The top five states in the US for Chinese buyers are California, Florida, New York, Texas and Washington state, Henry said. It's been well documented that the Chinese like New York and San Francisco, which have large Chinese populations.
"There are other US areas that are attracting Chinese buyers," Henry said. He said the Chinese are in the top five of international property investors in 46 of the 50 states and listed St. Louis, Gainesville, Florida, and Seattle as "up and coming" areas.
Henry said Chinese buyers fit into four main profiles: investment, immigration, education and lifestyle. "Investment buyers like new apartment buildings because there are mostly apartments in China," Henry said. "Immigration investors like to live in established Chinese communities, while education buyers seek apartments close to US colleges and universities for their children to attend."
paulwelitzkin@chinadailyusa.com