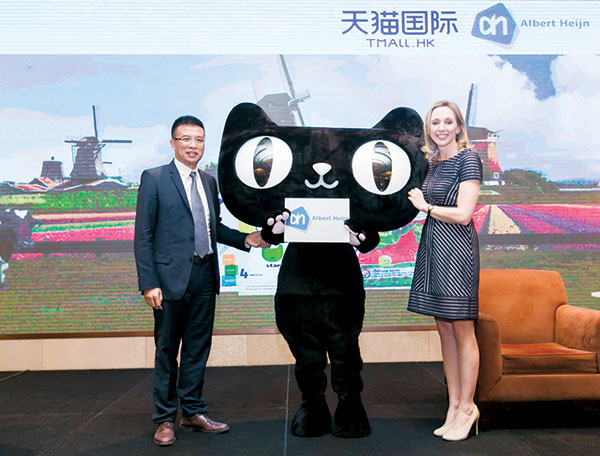 The Netherlands retail conglomerate, Albert Heijn, partnered with Tmall Global to open its own virtual mall for Chinese consumers during the Nov 11 shopping carnival. [Photo provided to China Daily]
"It's not very difficult to interpret these numbers, as they can all be explained by one rule: Chinese consumers are now obsessively health-and-nutrition-oriented when it comes to food," said a nutritionist from a Shanghai hospital who spoke on condition of anonymity.
"This could also be due to the fact that in traditional Chinese medicine, there is a deeply rooted concept of food therapy."
As Jack Ma, Alibaba's billionaire founder, once said, online shopping is just one of the many ways to shop in many countries. In China, however, it is a lifestyle.
Research conducted by consulting firm McKinsey showed that up to 40 percent of Chinese online shoppers had purchased food with a click of mouse in 2014. In contrast, only 10 percent of Americans did so.
China's largest food importer and manufacturer COFCO Corporation estimates that while online food purchases account for less than 5 percent of overall online sales, it is expected to become a major growth engine in the near future.
"The first decade has convinced savvy Chinese shoppers that online shopping is feasible, (and) what is seen on the screen is real. Now it's time for them to buy things that they feel are safe to swallow," said Ge Jia, an analyst with China E-commerce Research Center.
According to Xiang, the question now for e-commerce retailers in China is no longer about whether to sell imported food. Rather, it is about how they can become the ultimate go-to website for such products.
Costco, the second-largest US retailer after Walmart, was among the first batch of companies to own a virtual mall on Alibaba's Tmall Global, a platform specially tailored for foreign enterprises to reach Chinese audiences.
Food and healthcare products form the majority of the 240 or so products offered on Costco's Tmall store.
Other retailers that joined Tmall Global for the Nov 11 shopping frenzy included US healthcare giant GNC, Japan's largest drug store chain Matsumoto Kiyoshi, and most recently, the Netherlands supermarket chain Albert Heijn, whose parent company Ahold is also the fifth-largest food retailer in the US.
"Costco sees tremendous growth opportunities in China, especially in light of Chinese consumers' increasing appetite for imported products," said Jim Murphy, vice-president of Costco, before the launch of its Tmall store.
More than 300 tons of mixed nuts and dried cranberries were sold on Costco's Tmall store during last year's Singles Day, with revenues hitting 22 million yuan ($3.45 million).
According to Chinese media reports, the company's sales target for the whole of 2014 had been set at only five million yuan.
Interestingly, mixed nuts have been the number one seller among all imported food, while cartoned milk boasts the fastest growing rate.