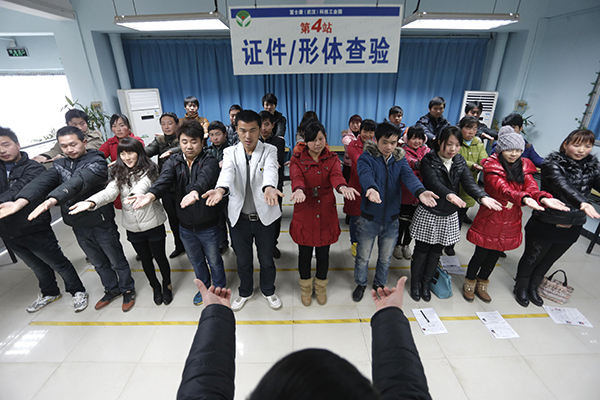 Job seekers undergo a physical check at an Apple Inc's original equipment manufacturer in Wuhan, Hubei province. Many factories in China are OEMs for Apple to produce iPhones and iPads. [Photo provided to China Daily]
Contract producer for iPhones cites tough market conditions
At its peak, the Pegatron Technology (Shanghai) Co Ltd factory in Shanghai was chock-a-block with job seekers looking for opportunities to work on United States' tech giant Apple Inc's latest flagship products.
Much of that demand arose after the Shanghai unit of Pegatron, contract manufacturer from Taiwan, was given the task of making Apple's next-generation iPhone 6S as well as iPads. Such was the demand that the facility was often teeming with prospective job seekers.
Jump to the present. The huge facility sports a deserted look. Gone are crowds waiting for job interviews or others who come to enquire about possible job openings. The facility, which at its peak employed around 100,000 people, has temporarily suspended hiring as demand for Apple products has waned considerably.
The winding passage that leads to an interview room is all but deserted. Rather than excited faces, one can see young employees trudging out of the facility with fatigue and despair written large on their face.
Zhang Libing, a 23-year-old from Anhui province, told China Daily that he had just resigned from his job at Pegatron as he was exhausted and fatigued with the long working hours. Next to him was a huge electronic screen that kept flashing the message that the company has put on hold all fresh hiring for the time being.
"We are not surprised at that," Zhang said. "The sales of iPhone 6S have been disappointing. I am afraid that if we do not leave now, we will be laid off soon."
Apple considers the iPhone 6S series as the star in its "strongest product lineup" of all time. The company said last week that more than 230 million units of iPhones had been sold worldwide in the fiscal year ended September, a 37 percent year-on-year jump.
China, its biggest market outside the United States, accounted for nearly one-fourth of its total revenues in the fourth fiscal quarter because of its robust handset sales in the country. But fresh concerns have arisen over whether the company would be able to sustain the sales momentum.
Fading enthusiasm for iPhones in China has dragged down the device prices in the parallel market and hit new orders to the supply chain partners. Pegatron was planning to hire roughly 40,000 workers for its Shanghai plants in the summer when Apple entrusted it with the iPhone 6S and iPad manufacturing. The current employee strength of the company remained unclear.
Pegatron dismissed speculations that the company could not get new orders, saying it is a peak season for the company and its operations at the Shanghai plant were "normal".