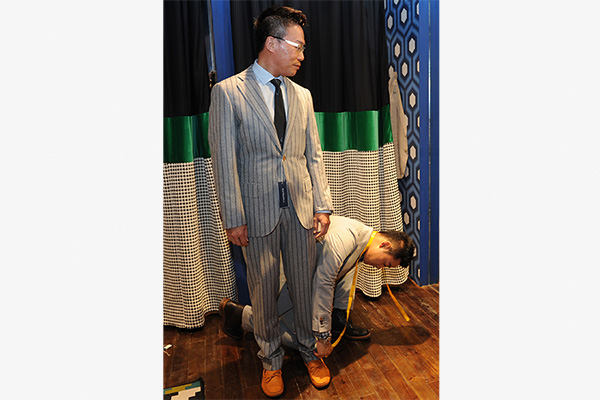 A customer is measured for a suit at a Suitsupply store in Shanghai. [Photo provided to China Daily]
Labels like Suitsupply are stitching up an online-offline strategy to clothe middle class, Chinese executives with a touch of style
You are 38 and a jet-hopping globe-trotting manager at a multinational company. You want to look natty in a suit at work so popular brands will not do because your juniors may be wearing the same brand.
But you still can't afford uber-luxury labels-think Ermenegildo Zegna-because the price tag is out of your range. So, what do you do?
Well, if you are Gary Wu, a senior manager in Shanghai, you will look for an in-between brand, neither ordinary nor super-expensive, something that is good value for money, with an emphasis on detail.
In short, you will happily settle for Suitsupply, the European men's fashion label.
"Finding the right suit that really fits my waists, arms and legs can be a headache," Wu, who is 1.75 meters tall and 70 kilograms, said. "At 40, you want to wear clothes with style that are made from quality fabrics just for you."
Suitsupply has been targeting middle-class, well-educated, travel-bound consumers for a while now.
Founded in 2000, the company has grown to more than 60 stores across prime European, American and Asian cities such as Milan, London, Zurich, Amsterdam, New York and Singapore.
"The Chinese market is getting more mature and customers here are getting very informed," Fokke de Jong, founder and chief executive officer of Suitsupply, told China Daily in an exclusive interview.
At a Suitsupply store in Shanghai that opened this summer, Jong looked around, absorbed the scene, and said: "Customers in big cities in China are looking beyond usual logos for high-quality products." And, in the months and years to come, such customers could constitute a huge market, something Jong wants to tap into. Between 2009 and 2013, sales in the Chinese menswear market grew by nearly 15 percent, with total market value increasing by 73.6 percent to 430 billion yuan ($68.25 billion).
Still, according to Mintel Group Ltd, a United Kingdom-based consultancy firm, growth in the Chinese menswear market remains slower than that of the womenswear sector.
There is probably a reason for it. "Chinese customers are tired of getting ripped off (by luxury brands)," Jong said.
For many Chinese executives, there is a desire to wear decent but affordable formals.
A Suitsupply piece has a price tag of 2,480 yuan, while premium varieties cost up to 6,180 yuan. Bespoke suits start at 6,480 yuan, and will take up to five weeks to materialize.