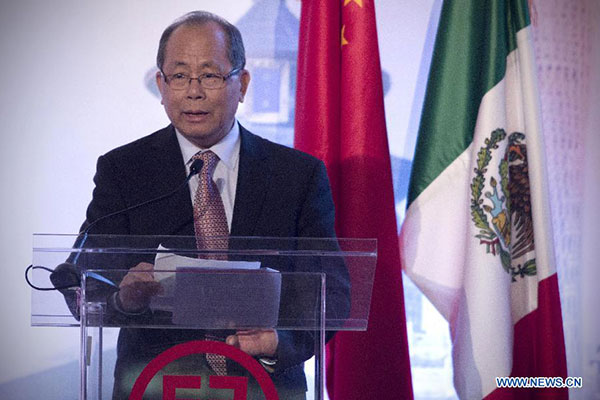 China's Ambassador to Mexico Qiu Xiaoqi addresses the opening ceremony of an office of the Industrial and Commercial Bank of China in Mexico City Oct 14, 2015. [Photo/Xinhua]
MEXICO CITY - A branch of the Industrial and Commercial Bank of China (ICBC) opened here on Wednesday, becoming the first Chinese financial subsidiary in Mexico.
The opening of ICBC Mexico marked a milestone in the group's globalization strategy and an outstanding achievement in the advancement of economic and financial cooperation between China and Mexico, Qian Wenhui, the ICBC's supervising chairman, told a celebrating event at the Bankers Club in downtown Mexico City.
Qian said the branch provides a platform that facilitates investment and trade between the two countries and will play a substantial role in Mexico's economic and social development, and in China-Mexico cooperation.
The establishment of the ICBC branch, the fourth Latin American subsidiary of the ICBC after Argentina, Brazil and Peru, will strengthen the bank's presence in the region and improve its service network and global capacity, according to the ICBC.
The subsidiary in Mexico will provide a wide array of services to local entities, and to strengthen cooperation with other banks through its extensive experience and access to global resources.
Fernando Aportela, Mexican undersecretary of Finance and Public Credit, said at the ceremony that the federal government welcomes the arrival of new participants in the financial system.
"We hope the bank begins operations in 2016 and we are certain that with its experience and vision, as well as work and effort, it will become a very important member of our financial system," he added.
Mexico is Latin America's second-biggest economy and an emerging market with steady growth.
Others attending the event were Luo Fuhe, vice chairman of the National Committee of the Chinese People's Political Consultative Conference (CPPCC) and Qiu Xiaoqi, Chinese ambassador to Mexico.