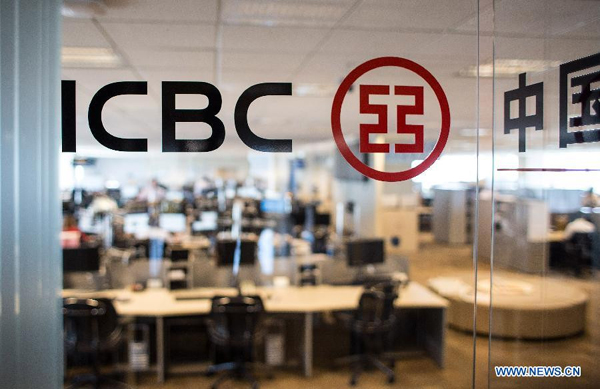 A branch of Industrial and Commercial Bank of China. [Photo/Xinhua]
Industrial and Commercial Bank of China Ltd will launch an Internet-based financing center next month.
The move comes as China's largest State-owned bank by assets accelerates its growth strategy through online technology.
"The bank will use the Internet to make innovations on loan products for corporate and individual clients," Xiong Yan, deputy head of corporate banking department at ICBC, said on Thursday. "It will also market Internet financing products via a unified innovation platform."
As of the end of June, the bank had recorded outstanding loans worth 11 trillion yuan ($1.8 trillion), of which Internet-based financing only accounted for 4 percent to 5 percent.
"We hope to increase that percentage," Xiong said. "We will enhance the role of the Internet in financing small and micro companies."
The bank will also use big data, a broad term for processing vast amounts of complex statistics which can be boiled down into market and company trends, to effectively help small firms' access loans.
The outstanding loans of the bank to small companies reached 1.8 trillion yuan by the end of June. Internet financing contributed less than 300 billion yuan of the total.
"The Internet will bring not only technological changes but also new business models and structural adjustment," Hou Benqi, head of electronic banking department of ICBC, said. "We are paying close attention to changes in regulations."
The bank established a marketing center for Internet financial products on June 1 to centralize on its e-commerce operation.
In the first half of 2015, transactions on the bank's e-commerce platform reached 204.4 billion yuan, almost 27 times that of the previous year. Its target for this year is 500 billion yuan.
"We will use our e-commerce platform as an extension of transactions and financing, as well as an opportunity to acquire new clients," Hou said.