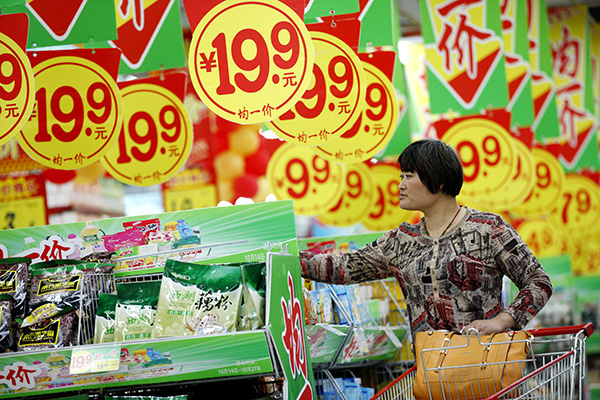 A customer shops at a supermarket in Huaibei, Anhui province, on Oct 13, 2015. [Photo/China Daily]
Producer Price Index decline 'may facilitate restructuring process'
Inflation edged down for consumers in September and producer prices continued to contract, suggesting that the rate of economic growth may lose steam in the third quarter as demand remains weak.
But an hopeful scenario could be seen in the service sector, where prices are rising rapidly. A boom in services can prevent a hard landing by the world's largest emerging economy, economists say.
The Consumer Price Index, a main gauge of inflation, moderated to 1.6 percent year-on-year in September, down from 2 percent in August, the National Bureau of Statistics reported on Tuesday.
In the first three quarters, consumer prices were 1.4 percent higher than a year earlier, lower than the government target of 3 percent and below the 2.2 percent reading for the same period last year.
"The low inflation level can reflect economic weakness," said Chang Jian, an economist at Barclay's Capital in China.
Meanwhile, factory gate prices, as measured by the Producer Price Index, declined by 5.9 percent in September from a year earlier, extending its streak of negative readings to 43 months, compared with a 5.9 percent drop in August and a 5.4 percent fall in July, the statistics bureau said.
In the first nine months, PPI declined by 5 percent year-on-year.
According to Li Jing, an economist at HSBC Bank, "Prolonged weak inflation will not only weigh on firms' profits and add to their debt burdens but also lead to poor market expectations regarding incomes and prices."
The bank predicted more decisive policy easing in the coming months to counter the potential deflation risks.
However, some economists have seen positive signals in the expansion of the service sector.
Data from the NBS showed that service prices rose 2.1 percent in September from a year earlier the strength of domestic tourism, box office receipts and restaurant spending, among other things.
A research note from Goldman Sachs said booming service prices, together with the easing of industrial product prices, suggests that policymakers are successfully transferring the economic growth pattern away from investment and toward consumption.
It is also a wise choice to stop the country from entering the so-called middle income trap, the research said.
Lian Ping, chief economist at the Bank of Communications, said the PPI may continue to decline for the rest of this year, which may help reduce the backward production capacity while facilitating the restructuring process.