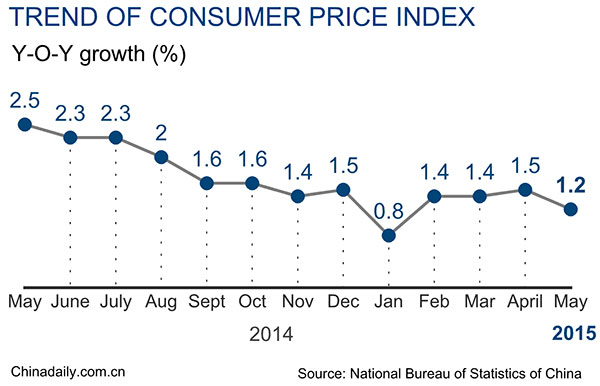 BEIJING -- China's May consumer inflation slipped to four-month low and producer prices dropped for a 39th straight month, signaling weak demand and raising the possibility of the central bank rolling out more targeted easing measures in the months ahead.
Weak demand & continued deflationary pressure
The consumer price index (CPI), a major gauge of inflation, rose 1.2 percent in May from a year earlier, down from April's increase of 1.5 percent, data released by the National Bureau of Statistics showed.
The key gauge's reading, the weakest since January's rise of 0.8 percent, compares with the government's goal of keeping it around 3 percent for the whole of 2015.
On a monthly basis, consumer prices in May slipped 0.2 percent, unchanged from the 0.2-percent drop recorded in April.
The NBS attributed the CPI decline mainly to falling prices of vegetables, fruit and eggs resulting from seasonal factors.
Falling price levels may be a bonus for consumers in the short term, but factories are likely to postpone investment and people reduce spending on the prospect of continued price drops.
A combination of muted inflation and a slowing economy has troubled China as it tries to re-tool its economy for slower but more sustainable growth based on more sophisticated industry.
China's GDP in 2014 grew 7.4 percent, the weakest annual expansion in 24 years. GDP growth in the first quarter of the year further slowed to 7 percent.
There continues to be trend for declining prices at the production end. The country's producer price index (PPI) slid 4.6 percent year on year in May, the 39th straight month of declines, official data showed.
The year-on-year drop in the PPI, a measure of costs for goods at the factory gate, matched April's, according to the NBS.
On a monthly basis, the PPI contracted 0.1 percent in May, narrowing from a 0.3-percent decline in April, which was mainly caused by rising petroleum processing costs.
The 4.6-percent fall was the index's second-largest drop since its downward trend started in March 2012, suggesting continued weak market demand and adding deflationary pressure to China's economy, HSBC chief China economist Qu Hongbin said.
The weak readings in May indicate that deflationary pressure and the real lending rate both remain high, according to a report by China International Capital Corporation (CICC), the country's leading investment bank.