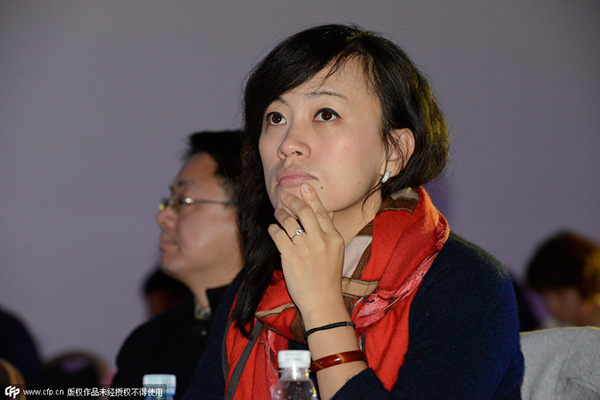 Liu Qing, the president of Didi Kuaidi. [Photo/CFP]
Liu Qing, one of the most powerful businesswomen in China, has been diagnosed with breast cancer.
The president of Didi Kuaidi, a mobile car-hailing platform, will continue to work at the company after having a tumor removed.
Liu, 37, was ranked last month as one of the most influential business people in the world under the age of 40 by Fortune magazine. Just days later, she revealed she was being treated for breast cancer in an internal e-mail to staff on Sept 30. "I had a small surgery several days ago and a tumor was removed," she said in the e-mail. "It turned out to be malignant, namely, breast cancer."
Liu has since been discharged from hospital and will continue to serve as president of Didi Kuaidi.
"I am now feeling good," she said in the message. "The doctors and I are optimistic. The cancer won't have too much impact on my life and work."
Liu underlined that point by attending a US-China Internet forum in Seattle a week before she sent out the e-mail.
After working for Goldman Sachs Group Inc for 12 years, she joined Didi Kuaidi in 2014. By using her experience in investment banking, she helped the Beijing-based company raise $3 billion from investors in the latest round of financing.
"In the near future, I will have to work at home, especially when I'm having treatment," she said.
After the e-mail was made public, Didi Kuaidi that senior executives will visit her to discuss important business issues.
"I have been at Didi Kuaidi for 14 months," Liu said in the e-mail. "Even though I have cancer, it will not stop me from leading what I consider to be a great company.
"I will continue to support Cheng Wei (CEO of Didi Kuaidi), and everyone in the company. Like the brightest star in the night, I will continue to shine-we will all continue to shine."
Didi Kuaidi claims to have 99 percent of China's taxi-hailing market, and 82 percent of the country's chauffeur-booking service. It is also rapidly expanding abroad through investments and global partnerships.
Liu is well-known for her work ethic. When the Harvard graduate was at Goldman Sachs, she worked up to 140 hours a week.
She once said: "I looked like 42 years old when I was only 24."