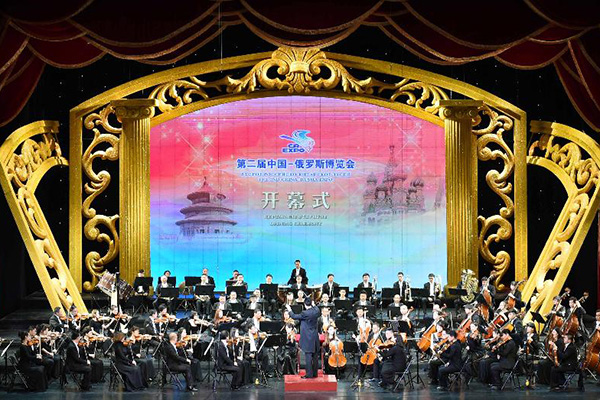 A symphony orchestra perform at the opening ceremony of the 2nd China-Russia Exposition in Harbin, capital of Northeast China's Heilongjiang province, Oct 11, 2015. Businessmen from 29 countries and regions will attend the Expo from Oct 12 to 16 in Harbin. [Photo/Xinhua]
HARBIN - Nearly 10,000 businessmen from 103 countries and regions attended the second China-Russia Exposition, which opened on Sunday in Harbin, capital of Northeast China's Heilongjiang province.
More than 4,000 of the businessmen came from Russia, which borders Heilongjiang.
The expo, which is to last till Friday, is hosted jointly by the Chinese Ministry of Commerce, the Ministry of Economic Development of the Russian Federation, the Ministry of Industry and Trade of the Russian Federation, as well as the provincial government of Heilongjiang.
Representatives from China and Russia will have exchanges in fields like electromechanical production, railway, development of forest resources, technical standards, mining, finance and tourism.
China is Russia's largest trading partner.
The first China-Russia Expo ended last July in Harbin with contracts worth 3.15 billion U.S. dollars signed. The third expo will be held in Russia.
The event's predecessor was the China Harbin International Economic and Trade Fair, and the first fair was held in 1990.