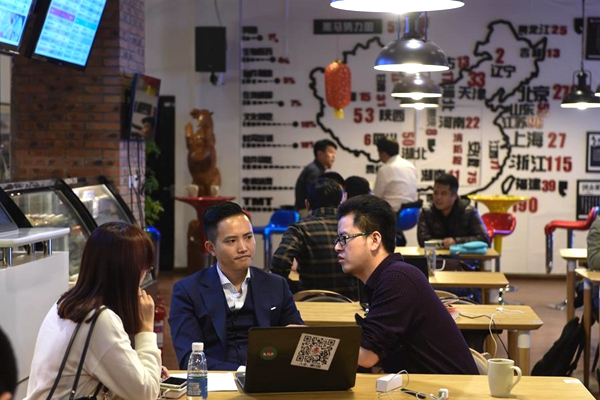 "Makers" exchange views at the Zhongguancun Innovation Street in Beijing on March 17, 2015. [Photo/Xinhua]
BEIJING - Beijing's Zhongguancun, one of the country's leading technology hubs, plans to upgrade its core 7.2-km-long street area into one serving innovation and business start-ups, they announced Sunday.
Under the plan, the area will cover key universities such as Peking and Tsinghua and electronics shopping centers. Some 36 office buildings are on both sides of the street, which houses more than 6,000 companies.
The street will shift to providing services to boost technological financing, innovation and business start-ups, creative culture as well as industries related to information, big data and smart hardware.
"After the transformation, the street will be a window for the outside to see the achievements in innovation and start-ups of Zhongguancun," said Yan Xiumin, deputy director of the Zhongguancun Haidian Park.
In June 2014, a 220-meter-long section of the street started transformation and has attracted nearly 40 companies serving business start-ups.
The street aims to realize a remarkable improvement in serving innovation by 2020.
The technological area based in Haidian district is the country's first innovation demonstration zone approved by the State Council in 2009 and aims to become a technological innovation center with global influence.
In the first eight months, revenue of the high-tech firms in Zhongguancun reached 2.1 trillion yuan ($333 billion), up 10.8 percent year-on-year.