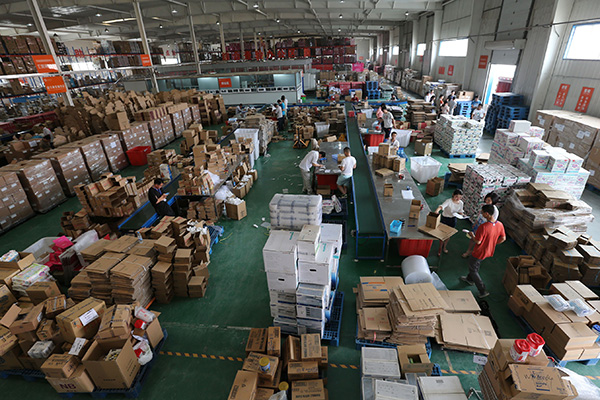 Workers packed the imported goods in Zhengzhou Cross-border E-commerce Center, Central China's Henan province, May 29, 2015. Zhengzhou is one of the pilot cities for import e-commerce in China. [Photo/Xinhua]
Every afternoon, Cao Fuchun goes to a nearby express delivery station to see if any parcels have arrived for him. The retired worker has caught the "overseas" bug.
For Cao, buying goods online from overseas means he can shop in countries he has never been to. Living in Pengzhou county near Chengdu, Southwest China's Sichuan province, Cao has bought skimmed milk from Australia, beef from Argentina and a water filter from Germany, among other goods.
At the end of last year, Cao's daughter, an accountant in Beijing, bought US-made fish oil capsules and vitamin tablets for her parents. "I was surprised how inexpensive they were, so I got hooked on buying overseas," he says.
A growing number of Chinese online shoppers are buying globally. Most are young, well educated and eager to buy foreign goods that are unavailable or exorbitantly priced in China. They are a booming multi-billion-dollar market for foreign e-retailers and producers.
According to the China E-commerce Research Center, China's total cross-border e-commerce-inbound and outbound-reached 4.2 trillion yuan ($657 billion) in 2014, and will grow to 5.5 trillion yuan in 2015.
The Ministry of Commerce forecasts cross-border e-commerce will be worth 6.5 trillion yuan in 2016, accounting for 20 percent of the country's total foreign trade.
Nielsen's Global E-commerce and The New Retail Survey in April said several factors are at play to boost China's e-commerce. Rapid urbanization and high population density make the home delivery model economically viable, particularly when coupled with low labor costs. In addition, booming smartphone ownership and usage have created huge mobile commerce opportunities.
China's domestic e-commerce sector is gaining its share of the market, too. According to China's Customs service and China E-commerce Research Center, 18 million Chinese spent 140 billion yuan buying from overseas in 2014, and that is expected to reach 1 trillion yuan in 2018.
The government is backing this trend. In August 2013, the State Council issued a policy to support cross-border e-commerce, with six concrete measures to facilitate processes, including Customs clearance, quarantine inspection, duties and foreign exchange.
In 2014, seven cities-Shanghai, Hangzhou, Ningbo, Zhengzhou, Guangzhou, Shenzhen and Chongqing-were designated import e-commerce pilot zones, where foreign goods can be stored in bonded warehouses before Customs clearance. In 2015, another two coastal cities were added to the list.
According to tax regulations in those cities, each order under 500 yuan is duty-free, and each order from 500 to 1,000 yuan incurs a 10-percent tariff, compared with ordinary imported goods being taxed around 40 percent on average.