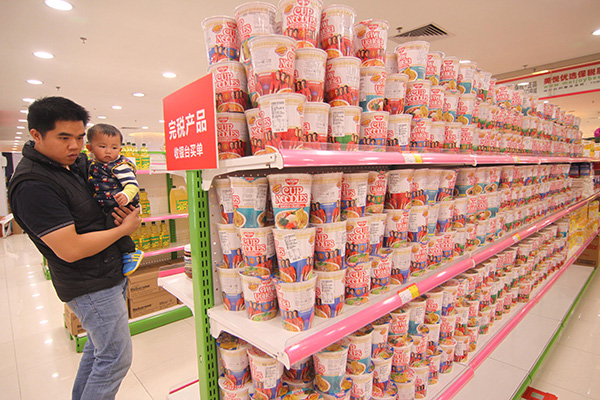 A man examines imported food products at a store of a cross-border e-commerce provider in Guangzhou, capital of Guangdong province. For foreign companies, which are keen to attract Chinese customers, Internet campaigns can have a positive impact on sales and brand awareness. [Photo/China Daily]
As the e-commerce sector expands here, foreign companies are linking up with China's major online platforms to push their brands.
Even though retail sales growth is showing signs of slowing, along with the rest of China's economy, there are still opportunities out there. And they tend to be in cyberspace.
Online sales, for example, in the world's largest digital marketplace are growing at an annual rate of 25 percent. According to Bain & Company, a top management consulting firm, business-to-consumer online retail in China, or B2C, will grow three times faster than the overall sector.
By 2018, half of all online sales will come from third-tier cities and below.
For foreign companies, which are keen to attract Chinese customers, Internet campaigns can have a positive impact on sales and brand awareness.
To illustrate that point, 20 leading brands from the United Kingdom were involved in an exclusive three-day promotion in August organized by the China-Britain Business Council. The partnership also involved Juhuasuan, an e-commerce platform and one of the hottest names in Alibaba Group Holding Ltd's portfolio.
The CBBC has been helping UK companies develop their businesses here, and the online promotion included global names such as fashion group Burberry, tea brand Twinings, and electronics companies Dyson and Kenwood.
Sales revenue was more than 6 million yuan ($943,396), with the 15 brands involved in this year's Great British Brands Festival accounting for half of the total. E-commerce made all this possible, proving that Internet shopping is here to stay.
In fact, a report by Forrester Research, an independent technology and market research company, showed that online spending in China will reach $1 trillion by 2019. Growth will be fueled by mobile apps and an expanded logistics chain. In recent years, these key factors have helped e-commerce companies reach new customers in smaller cities.
The rapid increase in China's Internet penetration rate, sparked by the growth in smartphones, is one of the main reasons for the e-commerce boom.
Last year, there were more than 360 million online shoppers here-a figure larger than the population of the United States. And by 2020, it will grow to more than 750 million.
Naturally, logistics has a crucial role to play in the rush to expand the e-commerce industry. Building a solid delivery system spanning the whole of China is challenging but ultimately rewarding. Both Alibaba and its online rival JD.com have invested heavily in logistics networks.
Consumers have also embraced shopping online and the trend toward cashless transactions. According to the numbers, China has more than 4 billion bank cards in circulation. So when foreign retailers set up flagship shops here, they should also pay attention to their e-commerce presence on Chinese online sites.
Getting your brand out there is vital. Indeed, certain UK retail names, which hold a royal warrant, might have an extra edge over international competitors. This means a company regularly supplies goods or services for a minimum of five consecutive years to the UK royal family.
Brands like that have great appeal worldwide as well as in China.