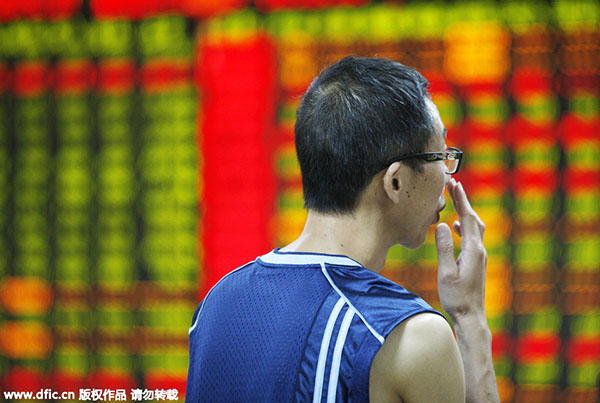 An investor looks downcast at a brokerage house in Huaibei city, East China's Anhui province, July 28, 2015. [Photo/IC] 
China's securities regulator said on Friday that it will root out the remaining illegal stock trading accounts that were partly responsible for the recent turbulence, even as the capital market is still struggling to regain its footing.
The China Securities Regulatory Commission said that 69 percent of the trading accounts which were involved in illegal margin financing through the so-called fund-matching companies that extend gray-market margin loans to investors have been cleaned up.
It is estimated that total value of stock holdings in the remaining illegal accounts could amount to more than 100 billion yuan ($15.7 billion).
The regulator said that stock holdings in most of the illegal accounts have been channeled into legal accounts and it urged brokerages not to conduct forced liquidations which could further destabilize the market.
On Friday, the benchmark Shanghai Composite Index retreated by 1.6 percent to close at 3,092.35 points. The index has dropped by nearly 40 percent since it peaked in mid-June.
Illegal margin financing had largely existed in a regulatory void prior to the market crash in June. Third-party trading software that helped traders divide one account into many sub-accounts without real-name registration have enabled these illegal accounts to be operated outside the regulatory framework.
The CSRC has shut down the operation of all third-party trading software at the country's securities brokerages. Billions of funds were previously channeled through these illegal stock accounts that borrowed up to 10 times the initial fund, which helped fuel a roller-coaster ride in the stock market.
To curb wild price swings, the regulator said on Friday that it will launch the circuit-breaker mechanism, a measure that halts trading in event of abnormal fluctuations, after related preparation work is completed.
The proposal for introduction of the circuit-breaker mechanism was previously circulated for public opinion. "Market differences now concentrate on issues including on how long the trading halt should be and how much percent of the market price swing should trigger such halts," said Zhang Xiaojun, the CSRC spokesman at a news conference.
In a separate announcement, the CSRC said it supports a feasibility study with the British counterparts to start a stock trading link between the Shanghai and London stock exchanges, which allows investors in each market to trade shares in each other's market.
"We are exploring such an opportunity... But the trading link will not copy what Shanghai has with Hong Kong due to the different trading time, regulatory framework and trading system," Zhang said.