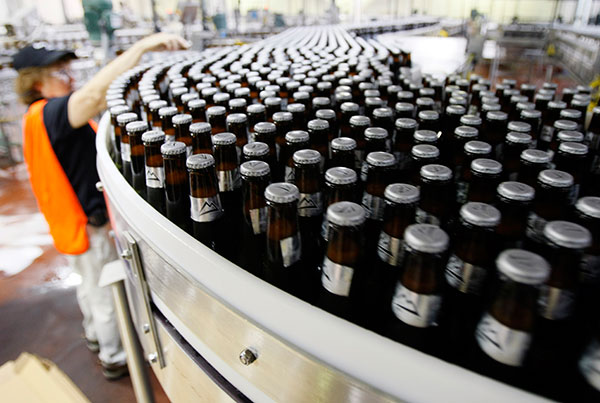 Newly labeled bottles of Coors Light beer head for packaging at the Coors brewery in Golden, Colorado. Molson Coors Brewing Company, the second-largest beer producer in the United States, is reported to be exiting the China market as competition intensifies from smaller domestic brands. [Photo/Reuters]
Molson Coors Brewing Company, the second-largest beer producer in the United States, is reported to be exiting the Chinese market because of increased competition from smaller beer brands.
The company has been in China since 2001, selling predominantly its Coors Light product.
But, according to a report on Yicai.com, the company has effectively ceased its operations here, terminated the contracts of its staff, and plans a full withdrawal by the end of the year.
An insider quoted in the report said Molson Coors does continue trading, and wholesalers will still receive deliveries. But its marketing and branding activities have ceased.
The company's China operations were highlighted in the company's most-recent second-quarter financial report, which revealed the firm's net sales per hectoliter had dropped 35 percent "primarily due to price promotion expenses related to substantial restructuring of our business in China", as well as geographic mix changes and foreign currency movements.
In 2007, SABMiller Plc, the world's second-largest brewer, and Molson Coors formed a joint venture known as MillerCoors.
Early this month, it was revealed that a proposed takeover by Anheuser-Busch InBev, the world's largest brewer, of rival SABMiller Plc is expected to create a colossus producing a third of the world's beer, sparking a potentially complicated reshuffle in brand ownership within the global beer market.
The combined group would have a market value of around $275 billion at current prices, and would combine AB InBev's strengths in Latin America with SABMiller's edge in Africa, as well as their breweries in Asia.
In China, SABMiller had earlier teamed up with China Resources Enterprises Ltd, the largest brewer in China, to produce the CR Snow brand.
Regulators in the United States are likely to ask for the disposal of SABMiller's stake in MillerCoors, a joint venture with Chicago-based Molson Coors, while AB InBev may have to sell SABMiller's 49 percent stake in CR Snow Zhejiang in China.
Molson Coors was formed in 2005 by the merger of Molson of Canada, and Coors of the United States, and is considered the world's seventh largest brewer by volume.
Industry insiders said that its exit from China is seen as the result of China's first annual reduction in beer sales last year, when domestic beer production volume dropped 0.96 percent.
The trend has continued into 2015, with first-half volumes recording a 6.17 percent fall.
While the market is shrinking, competition is becoming fiercer, however, with 75 percent of the market now dominated by just four main beer producers.
An industry insider, who prefered to remain anonymous, told China Daily that other smaller-scale beer brands are also likely to face tougher competition, even foreign-owned ones.
According to Mintel Group Ltd, the United Kingdom-based researcher, the global market's biggest players are gaining strength through merger and acquisition, and that's likely to continue.
Mintel said the market will become even more consolidated with leading players snapping up local brands, as the gap between what constitutes a local and international brand blurs.
It said that small, local craft brands, however, are maintaining their position in the market, in a way that small-scale generic brands are not.