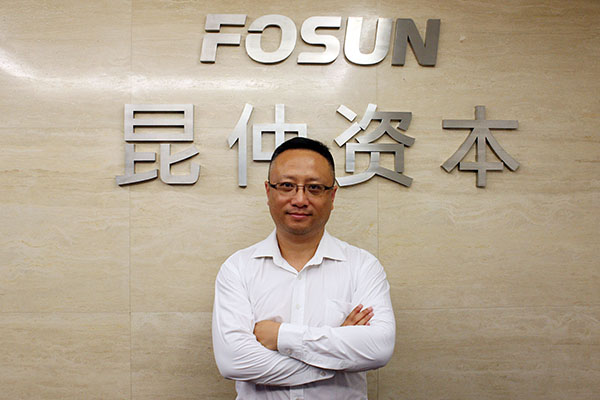 Wang Jun, founding partner of Fosun Kinzon Capital
Investment strategy will be 'aggressive and decisive', says head of Fosun fund
When Wang Jun was asked by Fosun International Ltd, a Chinese conglomerate, to head a new venture capital fund, he accepted with barely a second thought.
"Fosun needed VC funding to perfect its asset management platform and discover new strategies and business models. Venture capital investment is my passion, and I knew there would be big opportunities, especially at a time when China's macro economy and its larger industries are changing so dramatically," said Wang.
With spells at Peking University, Illinois' Kellogg School of Management, followed by McKinsey & Company, CDH Venture-an arm of one of China's biggest asset managers CDH Investments-and finally working as president of the US-listed Xueda Education Group, Wang has an impressive pedigree.
He was asked to set up Fosun Kinzon Capital with three other partners at the start of 2013, with the aim of becoming a global VC fund focused on "Internet Plus"-the new business model that combines the Internet with traditional industries.
The VC arm now has 36 people in offices in Beijing, Shanghai, Shenzhen and Silicon Valley in the United States.
"I was immediately on the lookout for hardworking, smart and cool people from diversified backgrounds, when we were setting up the team," said Wang.
But his most important conditions were a willingness to learn, an ability to handle constant change, and a passion for startups and entrepreneurship. Wang said he has entrenched a democratic decision-making culture in the company, to encourage young people to showcase their abilities, and to encourage innovation.
"Venture capital investment is a very personalized thing, and democratic decision-making is the only way to ensure we have a wide portfolio of good companies," said Wang, adding this is not an organization top-heavy with over-bearing managers.
There are six people in Fosun Kinzon Capital's investment decision-making committee, including himself running Kinzon Capital, with three others from the parent company involved, including Fosun International Ltd's Chairman Guo Guangchang .
"If I was to summarize Fosun Kinzon's direction and strategy, it would be aggressive and decisive," said Wang.
Fosun Kinzon has two funds so far under management: a yuan-denominated vehicle worth 800 million yuan ($125.4 million), and a dollar-denominated one worth $200 million.