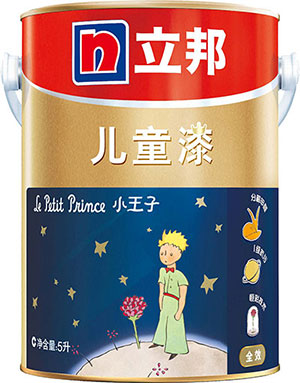 Nippon Paint China launches children's paint. [Photo provided to chinadaily.com.cn]
Nippon Paint China, a subsidiary of NIPSEA Group, recently announced the launch of its new line of paint for children. The paint is based around the theme ofthe famous French children's novel, "Le Petit Prince."
To standardize interior wall paint for children in domestic settings and protect children's health, China has issued its first regulatory standards for children paints.
Nippon Paint China, as one of the paint manufacturers dedicated to adhering to the standards, soon launched the "Le Petit Prince" children paint range to set a model for the children's paint industry. The products feature strict control on rinse resistance, stain resistance, volatile organic compound (VOC) content and formaldehyde content.
In addition, Nippon Paint China plans to blend the "Le Petit Prince" features into its "Color, Way of Love" CSR Project to bring more love, color and joy to children in remote areas. "Color, Way of Love" was initiated in 2009 to help school children in remote areas decorate, rebuild, and improve their campuses and study environments.