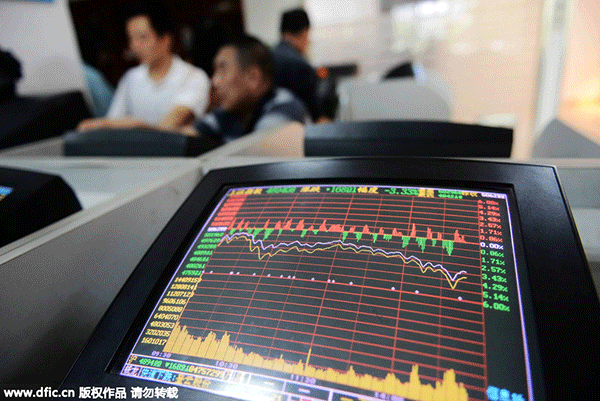 Investors at a securities brokerage in Qingdao city, Shandong province, June 16, 2015. [Photo/IC]
Chinese stocks dived from seven-year high on Tuesday, with the benchmark Shanghai index tumbling 3.5 percent, amid concern that a flood of new offerings might "steal the momentum" from existing equities.
The Shanghai Composite Index pared for a second day from its highest level since 2008 and closed at 4,887.43, down 175.56 point, while the Shenzhen Component Index slid 3.5 percent to 17,075.93.
Aerospace manufacturing, engineering machinery companies led the loss on Tuesday. CRRC Corp, the train maker behemoth formed after the merger of China North Railway and China South Railway, dropped by a daily limit of 10 percent, along with China Railway Construction Corporation.
Internet-themed stocks edged down after a year-long surge. The ChiNext index, which tracks China's Nasdaq-style board of growth enterprises listed at Shenzhen exchange, declined nearly 2.9 percent on Tuesday, paring its six-month gain to 118 percent.
Subscriptions for 25 initial public offerings (IPOs) starting Wednesday that may tie up at least 6 trillion yuan ($970 billion) of fund have sparked liquidity concern, said analysts.
Among all, Guotai Junan Securities, China's third-largest brokerage by asset scale, will kick off road shows on Wednesday following the announcement of its issue price, selling no more than 1.53 billion shares, said the company in a filing to Shanghai Stock Exchange.
About 20 IPOs will be open for subscription starting Thursday and Friday, marking a peak of dense offerings since the year-long hiatus, reported China Securities Journal.
It's evitable that a growing amount of capital will flow into the market along with the wealth redistribution, and the momentum cannot be altered easily, said Xun Yugen, chief strategist at Haitong Securities, in a note on Monday.
However, Hong Hao, chief strategist at BOCOM International Holdings, warned that the coming six months will be a critical time window to monitor for potential crash.
"As extreme returns with small possibility pile up, gains must accelerate to compensate excessive risk undertaking. But the probability to sustain such excess diminishes, too, much like being dealt straight flush every hand," he wrote in a note released on Tuesday.
The Shanghai gauge has surged nearly 60 percent since the beginning of this year and 145 percent for the past 12 months.
The CSI 300 gauge closed at 5,064.82 points, down 3 percent on Tuesday.