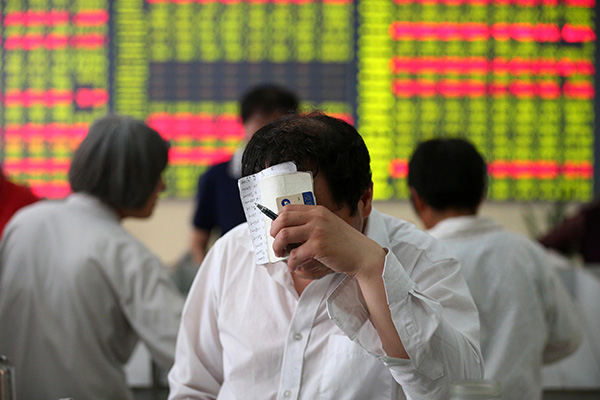 Stock investors at a brokerage in Nantong, Jiangsu province, June 9, 2015. [Asianewsphoto by Xu Congjun]
Analysts still see a glimmer of hope for China's A shares to be included in the United States-based Morgan Stanley Capital International Inc's global equity benchmarks later on Tuesday, a move that could potentially increase capital flows to the Chinese mainland bourses.
The MSCI, which provides equity, fixed income, and hedge fund stock market indexes, and equity portfolio analysis tools, is due to announce its review results on Tuesday in New York (5 am Wednesday Beijing time), on whether it will include A shares in its benchmark Emerging Market Index, an influential index tracked by several fund houses.
The Emerging Markets Index has been designed to measure equity market performance in global emerging markets and consists of indexes from nations like Brazil, China, India, Indonesia, South Korea, Malaysia, Mexico, Russia, South Africa, Thailand and Turkey.
The MSCI Emerging Market Index is tracked by $1.7 trillion of funds, according to Bloomberg data. The inclusion of A shares will attract huge capital inflows to the China market, analysts said. A full inclusion will see potential cash flows of about $33 billion into the China market from passive investors such as exchange-traded funds alone, according to Fidelity Worldwide Investment.
"The chances of A shares being included in the MSCI are not that bright this year, as there are still many obstacles, especially since the shares are not entirely free float. Their (A shares) inclusion appears more likely next year," said Kevin Leung, a capital market strategist with Haitong International Securities based in Hong Kong.
A shares failed the MSCI review in 2014 due to limited accessibility. Foreigners own only 5.9 percent of the yuan-denominated A shares, according to the Bloomberg data, because of regulatory restrictions even as the government partially opened the market with the Shanghai-Hong Kong Stock Connect program last year, in addition to other investment channels like Qualified Foreign Institutional Investor and the Renminbi QFII programs.
"The market consensus is the inclusion possibility is below 50 percent this year, although my personal opinion is a lot more bullish," said Thomas Fang, managing director and QFII representative of Swiss financial services company UBS AG.
Most of the global investors are still "underweight" on emerging markets like China, especially after the financial crisis of 2008. Many big investors, including pension funds, mutual funds and insurance funds, still know little about the A-share market, he said.
However, some analysts feel that the rising tradability in China's capital market, based on the recent opening-up moves, has made it more influential and global investors should be prepared for a bigger involvement.
"I don't think it is about being bullish or bearish. You simply cannot ignore China," said Fang from UBS.
Michael Orzano, director of global equity indexes at S&P Dow Jones Indices, said: "Given the size and importance of China's equity market, the relaxation of foreign investment restrictions on A shares is clearly one of the most important factors currently affecting global benchmark design and is top of mind among many in the investment community."
The equity market remained calm on Tuesday before the decision. The benchmark Shanghai Composite Index slid 0.36 percent to 5,113.53 points at close. Turnover shrank to 1.15 trillion yuan ($188.5 billion) from 1.31 trillion yuan on Monday.