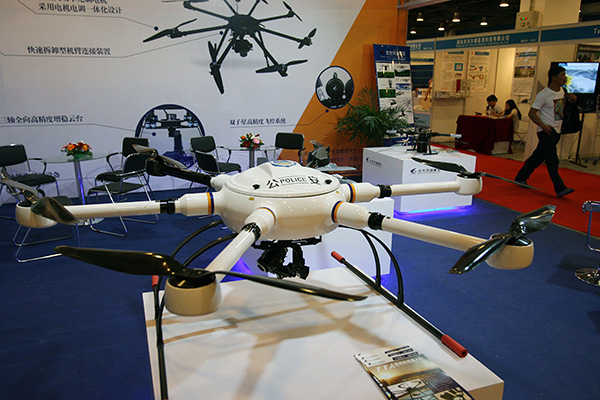 A drone for police use on display at an emergency rescue industry expo in Beijing. About 400 Chinese enterprises are in businesses relating to civilian drones. [Photo/China Daily]
Promotions and research needed to help potential domestic buyers
Chinese companies have been quick to move into the commercial drone market. But many have failed to target the right customers by marketing their products.
Areas such as research, sales and promotions need to be beefed up if these cutting-edge technology firms are to cash in on a potentially massive domestic market for unmanned aerial vehicles.
In the next 15 years, the commercial sector is projected to grow to about 50 billion yuan ($8.18 billion) annually, according to Zhang Feng, secretary-general of the Aircraft Owner and Pilots Association of China.
"The country will need more than 10,000 civilian drones once the industry is fully developed," Zhang said. "The market value will eventually reach 50 billion yuan a year."
Key industries that should be targeted include the agricultural and natural resources sectors, such as miners and energy firms, as well as the geological and advanced science markets. The leisure industry also has tremendous growth prospects as consumers rush to buy drones.
"We now have a large number of enterprises and institutes developing and producing unmanned aircraft for civilian sectors," Wang Yangzhu, a senior researcher on civilian drones at Beihang University, formerly known as Beijing University of Aeronautics and Astronautics, told China Daily in an exclusive interview.
"We know there must be a lot of government departments and business sectors taking interest in drones, but the fact is that only a limited number of civilian UAVs have been sold."
Wang is convinced the problem lies with the commercial side of UAV companies. They need to get their message across to potential buyers and make it clear why they should be investing in drones. Marketing and promotions will be crucial in the domestic sector.
"A lot of manufacturers can't find buyers even though they have different models available for sale," he said. "As for potential buyers, they don't know what kind of drones they need or where to obtain such equipment. What is needed is an important link between them, something like a housing agent, between homeowners and house buyers."
Already there are 400 Chinese companies involved in the civilian UAV business, the Aircraft Owner and Pilots Association of China has estimated.
Many of the State-owned defense contractors, such as Aviation Industry Corp of China, China Aerospace Science and Industry Corp, and China Electronic Technology Corp, have invested heavily in drone development.
But these State-owned giants must now expand their market research into finding out what customers want and mount promotional and marketing campaigns, Wang pointed out.