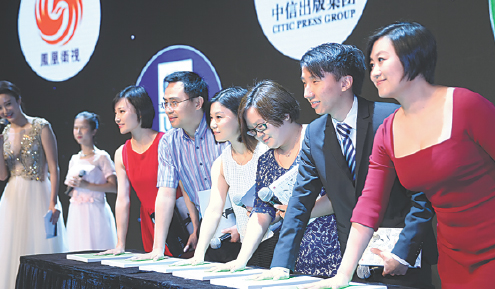 Representatives of Tencent Holdings Ltd, Nanfang Media Group, CITIC Press Group, PhoenixTV and Vanke Group at the launching of the WeChat Voice Donor program on May 17, the 25th National Day for Helping Persons with Disabilities, which collects voices for reading books for visually impaired children. [Photo/China Daily]
One of China's most successful new companies has been spearheading an initiative aimed at helping the lives of the country's 12.63 million blind and visually impaired citizens.
WeChat, the social-networking platform owned by e-commerce giant Tencent Holdings Ltd, launched the Voice Donor project last month, encouraging users to donate their time, and their voices, to doing voiceovers for reading books to be offered to those in need.
Cui Huiping, director of the Information Center of the China Disabled Persons' Federation, which is involved in the initiative, said: "Braille books are difficult to learn from, and still too expensive for many people."
The technology being used to create the new reading books, she said, can provide a huge help to people, through the creation of a larger national audio reading and voice library.
The project began collecting voices at the start of May and had gathered 3 million different voice donations by the middle of the month, which were then collated into some 100 audio books.
May 17 was the 25th National Day for Helping People with Disabilities, and to mark the occasion, organizers offered those new books to 100 different special blind schools across the country, which can help around 10,000 visually impaired children and 2 million people in total.
This new library of sound was created by the WeChat Voice Donor group, which created its own artificial intelligence-based voice recognition model to complete the task.
It selected the best reading voices by comparing them with accepted industry standards, explained Professor Yang Qiang of the Department of Computer Science and Engineering at The Hong Kong University of Science and Technology, who acted as technical adviser to the project.
Cui said that despite the technological progress enjoyed by many in China, not enough modern communication devices are being used by the disabled community.
She said smartphones, for instance, with full-screen touch technology are a great challenge for many disabled, especially people with visual impairments. Many of them are still largely dependent on Braille for study or work.
Patrick Haverman, deputy country director of the United Nations Development Program in China, said the current living and working conditions of many disabled Chinese people could be improved, and that the country still has a huge gap to bridge in promoting the rights and entitlements of people with disabilities.
He said there are more than 85 million people in China with disabilities of some kind, but just 21 million of them are employed, and 28 percent of disabled school-aged children are not participating in full-time education.
Picking up on Cui's point about modern technology, Haverman said that the Voice Donor project, however, is a great example of how high-tech systems can be used to massive effect for social innovation, calling it a modern symbol of how people with disabilities can be helped.