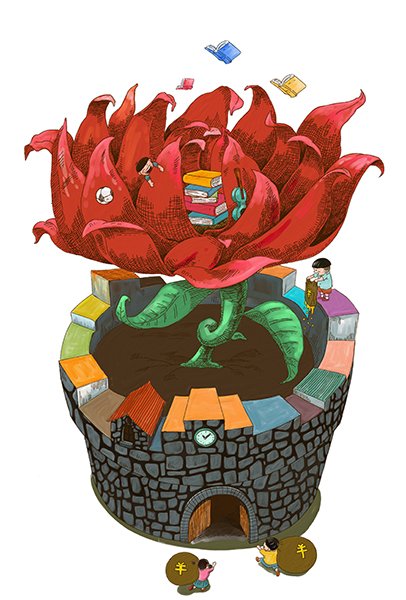 Debentures are sold by private schools to parents in exchange for admission places. High demand has triggered thriving trading market
If you think the best returns in Hong Kong for your hard-earned cash is either in stocks or properties, you would be wrong.
During the past eight years, the highest investment yields in the special administrative region have been school debentures.
Of course, not any debenture will do. It has to be one issued by a private, or international, establishment, where wealthy parents are fighting to enroll their children.
Debentures, or non-interest-bearing bonds, are sold by private international schools in Hong Kong to parents in exchange for admission places. The money is then used for building improvements and other costs.
The high demand for these bonds has spawned a thriving market that is beginning to attract investment traders.
"Debentures issued by several of the most popular schools always fall short of demand," Raymond Kwok, who runs the agency BA Marketing & Co Ltd that deals in the "membership transfer business" involving private clubs and school debentures, said.
The rush of mainland parents sending their children to elite private schools in Hong Kong is helping to further fuel demand for debentures in the past few years. These children include the thousands born in Hong Kong to mainland parents.
There is no shortage of advertisement in the local newspapers or educational websites offering debentures for sale. The prices range from more than $500,000 to just a few thousands, depending on the status of the schools.
One seller, who declined to be named, said the value of debentures has climbed by an average of 15 times in the past eight years. No stock or apartment has appreciated as fast during the same period.
The hottest debentures are for the Independent Schools Foundation Academy, a highly popular private international establishment that offers a bilingual English and Mandarin curriculum from elementary classes to senior high. An ISF debenture issued in 2006 at a face value of HK$450,000 ($58,050) is now worth HK$6.5 million.
More than 60 percent of those buying debentures have a mainland background, according to Kwok, of BA Marketing, whose figures are based on personal experiences.
"These schools are for those who want their children to speak fluent English, and have an international education system, so they can later study in the United States, United Kingdom or Canada. These people are willing to invest big money on their children's education," he said.