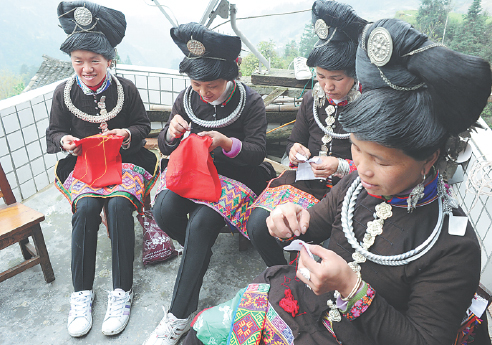 Craftswomen from the ethnic Miao community work on traditional handicraft. [Photo/China Daily]
British-run initiative provides valuable skills, mentoring and advice to ethnic Miao people
Danzhai and Leishan, two State-supported but poor counties in Guizhou province in Southwest China, are peppered with many rural settlements of Miao, Dong and other ethnic groups, many of whom have had to live on meager incomes from farming.
The hard living has forced many over the years to migrate to the more prosperous eastern cities of the country.
However, those willing to choose a different career path in recent years have been enjoying much better fortunes, courtesy of a social initiative run by the British Embassy in Beijing which is focused on the commercialization of traditional handicrafts in the region.
Launched in 2009, the Social Enterprise Program, created and run by the embassy's culture and education section, has provided entrepreneurial skills training, mentoring and access to UK business knowledge.
By the end of last year, it had trained around 1,800 individuals and distributed 29 million yuan ($4.73 million) in funding from numerous partners into 91 social enterprises.
Gen-silk Co Ltd, which sells traditional embroideries and batik, is one of a number of social enterprises in the area to have been helped by the British initiative.
The company has set up three cultural development centers in Danzhai and Leishan counties and in the city of Kaili, which have already trained more than 4,000 ethnic Miao women.
Craftswomen who have enrolled at the Gen-silk handicraft centers can earn a monthly income of 800 to 1500 yuan producing various items such as handbags and scarves, while senior craftswomen can earn upward of 2,500 yuan.
Jack Yu, director and first secretary at the British Embassy, said that combining traditional Miao handicraft traditions with modern designs, and using an e-commerce-based business model, the company has become a profitable social enterprise which is also dedicated to tackling social problems.
"The program not only increases the income of craftswomen, but also improves their social status and helps boost the local economy," said Yu.
China has witnessed a huge expansion of social enterprise organizations in recent years, created to deal with such issues like poverty, healthcare, left-behind children, and environmental pollution.
Most are supported by governments or voluntary donations, but there is still a strong determination to make a profit in their own right, said Yu.
The British Embassy has just announced its latest initiative under the program, cooperating with the China Philanthropy Research Institute at Beijing Normal University.