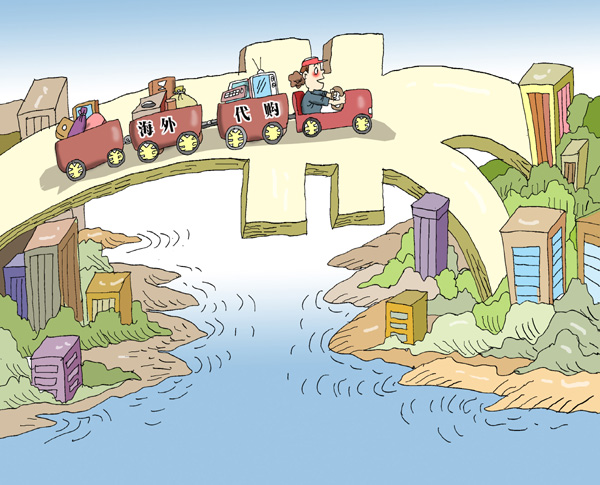 Tremendous demand for international brands in China means big business for sales agents engaged in overseas purchases of goods online. Stricter rules will help regulate this segment of business. [Photo/China Daily]
Giants from world of e-commerce move on to individual traders' territory
Groups of Chinese students and housewives have been cashing in on the tremendous demand for international brands in China by taking up part-time jobs in the United States as agents facilitating the overseas purchases of goods online.
But they now face stronger competition as e-commerce giants like Alibaba Group Holding Ltd and JD.com Inc increasingly switch their attention to this lucrative marketplace.
Zhang Qin (not her real name) started trading goods online after she moved to California in 2012 and her friends and relatives kept pestering her to buy products for them.
"American brands are popular because they are considered safe and authentic," said the 36-year-old housewife, who lives in Los Angeles.
"My friends wanted to buy these products themselves from US websites, but they didn't have a US address or bank card, both of which are required by many websites. So they asked for my help."
Many agents have similar stories explaining how they first got into the business, which is facilitated by online and mobile networking tools such as WeChat, operated by Tencent Holdings Ltd.
These agents take orders online, shop at local supermarkets, stores and on Amazon, then mail the goods to China and charge a commission.
They usually rely on friends and acquaintances because of the difficulty involved in gaining a stranger's trust. All of Zhang's customers, for example, are either her WeChat contacts or friends of friends.
"People know there are many fake goods sold on Taobao, China's largest online shopping platform owned by Alibaba, and customers can't verify if the goods are authentic or not until they receive them. But on WeChat, my contacts trust me," she said.
Wei Hong (another pseudonym) also conducts business mainly within her circle of acquaintances. The postdoctoral researcher in Seattle wanted to earn some pocket money after her son was born last year.