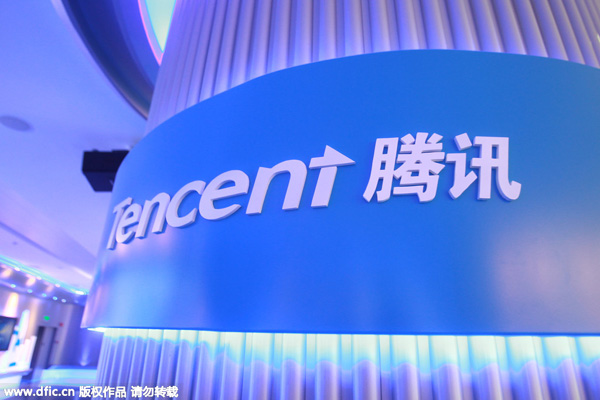 A signage of Tencent is seen at its headquarters in Shenzhen city, South China's Guangdong province, March 29, 2013.[Photo/IC]
BEIJING - Internet giant Tencent raked in 22.4 billion yuan ($3.65 billion) in the first quarter, up 22 percent year on year, the company announced Wednesday.
Net profits during the period reached 6.93 billion yuan, up 8 percent year on year, according to the company's financial report.
The lion's share of income came from value-added services, which stood at 18.6 billion yuan, up 29 percent year on year while online gaming contributed 13.3 billion yuan to total revenue.
Online advertising surged by 131 percent to 2.7 billion yuan in the first three months thanks to mobile social networking services and video ads.
Pony Ma, chair and CEO of Tencent, said the company will work with more partners to implement the government's "Internet Plus" plan.
The Internet Plus initiative proposes to use the Internet to connect more people with services.
Related story: Tencent pushes further in US gaming with Glu Mobile stake buy, by Agencies
Tencent Holdings Ltd, the dominant social networking and online entertainment company in China, has agreed to buy 14.6 percent of mobile game developer Glu Mobile Inc for $126 million to expand in the US gaming market.
Shares of Glu Mobile, which developed Deer Hunter and Kim Kardashian: Hollywood games, rose about 24 percent in extended trading on Wednesday.
Tencent, known for investing in game developers through partnerships and minority stakes, owns League of Legends developer Riot Games and has a stake in Activision Blizzard Inc, the owner of the Call of Duty franchise.
Glu Mobile reported a better-than-expected profit for the eighth straight quarter on Wednesday, helped by strong demand for games such as Racing Rivals, Deer Hunter 2014 and Contract Killer: Sniper.
The company plans to launch a mobile game with pop star Britney Spears in the first half of 2016.
Tencent has been aggressively taking on Chinese giants such as Alibaba Group Holding Ltd and Xiaomi Inc in the technology industry.
Tencent launched on Tuesday an operating system for internet-connected devices such as TVs and watches that is open to all developers.
The Chinese company will pay $6 per share for its stake in Glu Mobile. The price represents a premium of about 11 percent to the stock's Wednesday close.
Tencent will buy the shares in two tranches: 12.5 million shares on Wednesday followed by a further 8.5 million some time in the second quarter.
Cowen and Co LLC provided a fairness opinion to Glu Mobile's board in connection with the deal.