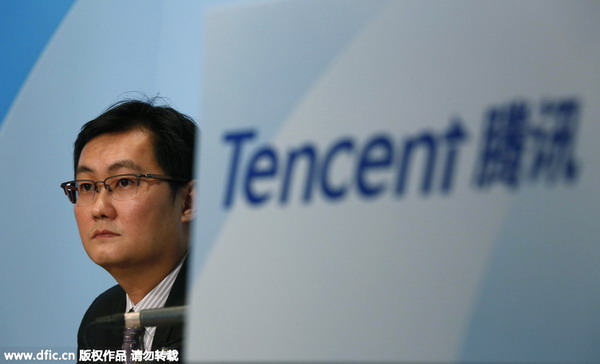 Pony Ma Huateng, chairman and CEO of Tencent Holdings Ltd, attends a press conference to announce his companies' annual results in Hong Kong, on March 19, 2014. The company said it will file lawsuit against AV-Test after being accused of cheating in recent anti-virus tests conducted by the agency. [Photo / IC]
Tencent Holdings Ltd, a Chinese software and Internet giant, said on Wednesday it will take legal action against AV-Test after being accused of cheating in recent anti-virus tests conducted by the agency.
The company's anti-virus products did not violate any rules during AV-T's performance tests, said the statement made available through its official micro-blogging site, requesting the agency to rescind its allegations and resume all certifications and awards granted to Tencent.
AV-T, one of world's three major testing labs, announced Tuesday that it was revoking "all affected certifications and awards" won by the company since the start of this year, claiming its PC security products had been falsified to improve ratings in the lab's performance tests.
Tencent is the latest Chinese tech vendor after Qihoo 360 Technology Ltd, another anti-virus manufacturer, to have been censured by the same testing agency in less than a week.
According to AV-T, Tencent's "optimizations" traded speed for accuracy and could degrade the protection level, putting users at risk.
"We regret that AV-T made such decisions given the fact that our products have been keeping good records in the past few years," said the company. "We cannot agree with it because the accusation is ungrounded."
"Unlike Qihoo 360, the product we submitted for testing is exactly the same we offered to users," said Wu Bo, deputy general manager of Tencent PC security products department, in an exclusive interview with China Daily.
"And technically, it's worthwhile to sacrifice minimal security for remarkable performance improvement. That would do no apparent harm to users," he said.
AV-T, together with AV-Comparative and Virus Bulletin, had previously ruled out the possibility of cheating by Tencent and Baidu in a joint statement released on April 30, saying "no evidence" could be found that their products gained advantage with certain flags.
In the same statement, the three labs accused Qihoo 360 that its for-testing version of security products not only uses different default settings, but is actually a completely different build, compared with that offered to the public.
Qihoo later said it had decided to quit AV-C, one of the three labs involved, because the agency used "obsolete testing standards" that couldn't meet the demand at the age of cloud security.
AV-C has yet to respond to Qihoo's claims.
Wu said AV-C had confirmed with Tencent that it will not cancel any of the company's awards and will continue testing its security products as long as no evidence comes up, as the performance issue did not affect any of AV-C tests whose methods are said to be more complex.
Another testing lab Virus Bulletin has not run any Windows performance tests yet this year, he added.