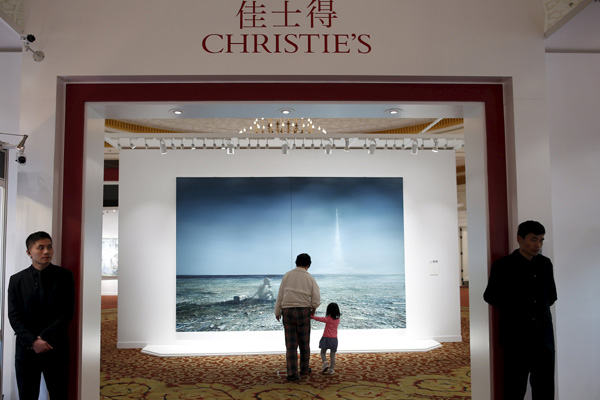 Security guards stand at the doors as people look at Jia Aili's Nameless Days 2 during a media preview of Christie's Shanghai Spring Auction in Shanghai on April 23. [Photo/China Daily]
Art sales in the Chinese mainland accounted for 22 percent of the 51-billion-euro ($55.62 billion) global market in 2014, a report from the European Fine Art Foundation said.
China's share of the auction business last year stood at the equivalent of 7.56 billion euros, or 30.7 percent of the world total, the report said. The top two auction houses in China are Poly International Auction Co Ltd, whose 2014 sales totaled 908 million euros, and China Guardian Auctions Co Ltd, with 621 million euros.
A substantial proportion of the activity in China is a result of the global reach of Sotheby's and Christie's, the report said.
Market insiders said that Chinese collectors are becoming more prudent and the prices they pay are getting more reasonable, signs that the market is maturing.
There are plenty of wealthy art collectors in China, and their numbers are growing: 6 percent of the world's top 200 collectors were from China in 2014, compared with less than 1 percent a decade earlier.
As the market matures, more works by Chinese artists may become available, so collectors will have wider choices.
In the absence of a strong gallery distribution system, the domestic market focuses on auctions, said Kong Dada, executive head of the Shanghai Cultural Artwork Research Institute.
"Valuation and pricing of artworks remain issues for investors and collectors. A platform should be established so that professionals in the valuation and appraisal fields can set fair prices," said Kong.
China has been opening its art market in the past decade, and there are now several exchange centers serving regional and international transactions.
Art exhibitions are also becoming increasingly common, attracting more potential buyers and visitors.
In Shanghai, four art exhibitions were staged in 2014, showing collections of more than 200 galleries that drew more than 100,000 visitors.
"I think that in China, we have unprecedented access to a wide range of art, and we can be exposed to various genres. Collecting art can mean spending 100 million yuan on an antique tea cup, or just tens of thousands of yuan on an emerging artist's painting," said Song Xiaoshan, 34, a logistics manager who purchased "a handful" of works in the past five years.
Given the relatively high tax rates on cross-border art transactions, deals closed in the Chinese mainland may not be as active as in markets such as Hong Kong, said analysts.
The bonded warehouse for art in the China (Shanghai) Pilot Free Trade Zone has enabled more active transactions and related services such as exhibitions and financing, said Hu Huanzhong, general manager of Shanghai Free Trade Zone International Cultural Investment and Development Co.