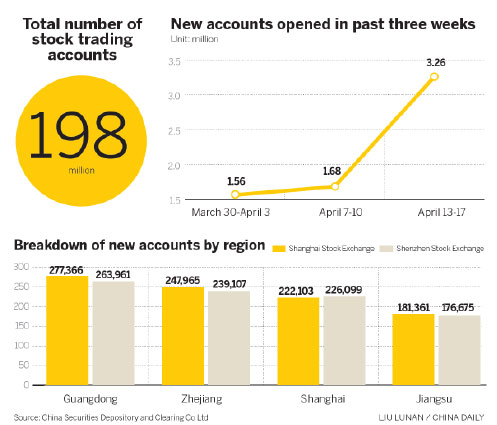 Oblivious to the increasing risk of being caught in a bursting bubble, investors continued to pile into the red-hot stock market on Wednesday, sending the benchmark Shanghai Composite Index to yet another seven-year high.
Both the Shanghai and Shenzhen markets rose sharply, with more than 150 shares surging by the 10 percent daily trading limit.
The Shanghai index jumped 2.44 percent to 4,398.49 points, after a short-lived correction on Monday.
Stocks of companies in the nuclear energy sector were among the biggest gainers, boosted by media reports that China had agreed to export five nuclear reactors to Pakistan in a deal valued at about $15 billion, by far the country's largest overseas nuclear energy project.
Financial stocks including brokerages, banks and insurers were also among the day's winners.
The frenzy lifted many small-cap technology stocks on the startup board ChiNext, even though many analysts have said that these companies are overvalued.
Unlike the boom in 2007, this bull run has been heavily powered by liquidity from leveraged trading, analysts said.
Investors have been pouring cash into the equities market through margin trading, which allows them to borrow money from brokerage firms to purchase stocks. They can be leveraged up to three times.
Outstanding margin loans by securities firms on the Shanghai Stock Exchange hit a record of 1.15 trillion yuan ($190 billion) on Tuesday, according to the exchange. That is not far below recent daily trading volumes.
Some investors have been seeking much higher leverage through certain trusts and banks' wealth management products, which could provide leverage as high as 10 times.
The securities regulator has banned brokerages from selling such highly leveraged trusts to their clients in an attempt to curtail risks.
But that move, and repeated warnings about market risks, have been widely ignored. Investors opened a record 3.26 million new trading accounts last week, nearly double the number of the previous week, after the regulator removed the "one investor, one account" restriction, according to China Securities Depository and Clearing Corp Ltd, a State-owned clearing service company.
The most enthusiastic investors hail from Guangdong province. They opened more than 270,000 accounts in March, accounting for 11.3 percent of new accounts that month in the Shanghai market.
While some analysts have warned that the market appears to be overbought and overvalued, the bullish view remains the dominant sentiment.
Ge Jun, a strategist at Changjiang Securities Co Ltd, said that the daily turnover in the A-share market will likely exceed 2 trillion yuan, driven up by investors' expectations of further monetary loosening by the government to shore up the economy.
Five of the 11 professional money managers from the Chinese mainland, Hong Kong and Taiwan surveyed by Bloomberg last week said they plan to boost holdings in the A-share market during this quarter, while four will maintain positions and just two will reduce their stakes.
"New funds have been continuing to flow into the market and I need to follow the trend," Dai Ming, a money manager at Hengsheng Asset ManagementCo in Shanghai, which oversees 1.2 billion yuan, was quoted by Bloom-berg as saying.