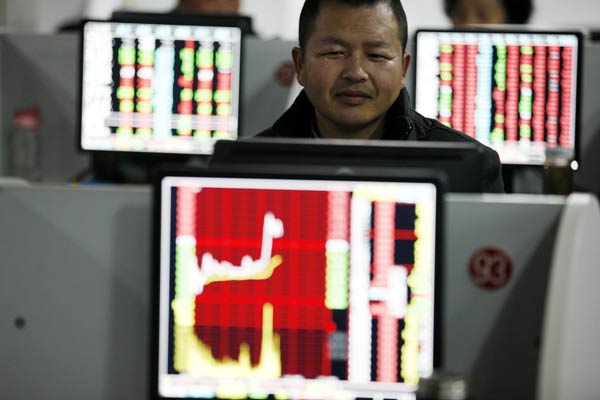 An investor sits in front of a screen displaying stock indices and prices of shares at a stock brokerage house in Huaibei city, East China's Anhui province, Dec 8, 2014. [Xie Zhengyi/ China Daily]
New Chinese stock accounts rose 93.77 percent week on week to reach a record 3.26 million - triple the single week amount in the hottest month eight years ago when it was a bull market - according to latest data.
China Securities Depository and Clearing Corp Ltd, a State-owned clearing service company, reported that as of April 17 the number of accounts in China's A-share market was 198 million.
Investors in the Chinese mainland can now open multiple stock-trading accounts after regulators last week removed the "one person, one account" restriction amid a dramatic bull run in the equities market.
The reform means investors no longer face complicated procedures if they want to transfer accounts to other brokerage firms, easing the flow of funds and further boosting market trading.
The number of new accounts in China's A-share market also marked a new high in March. Data showed new accounts reached 4.87 million with a daily average of 22,100.
On a daily basis, the number of new accounts in the Shanghai stock market rose 74,000 or 196.40 percent to 111,900, while in Shenzhen the figure rose 72,500, or 197.45 percent to 109,300.
The number of new stock accounts in South China's Guangdong province ranked highest, followed by Zhejiang, Shanghai, Jiangsu, Shenzhen, Shandong and Beijing.
In the Shanghai market, new accounts reached to 277,366 in Guangdong, accounting for 11.29 percent of total newly-added accounts, followed by 247,965 in Zhejiang and 222,103 in Shanghai.
New accounts in the Shenzhen market reached 263,961 in Guangdong, accounting for 11 percent of newly-added accounts, followed by 239,107 in Zhejiang and 226,099 in Shanghai.