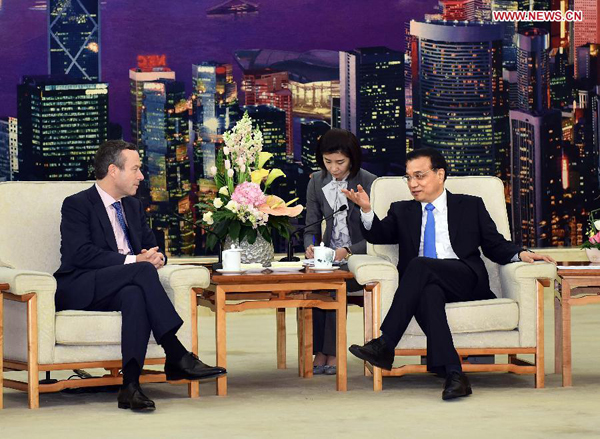 Premier Li Keqiang (R) meets Lionel Barber, editor-in-chief of Britain's Financial Times, at the Great Hall of the People in Beijing March 31, 2015.[Photo/Xinhua]
It will not be easy for China to grow its economy by 7 percent this year, Chinese Premier Li Keqiang was quoted on Thursday as saying, but he ruled out currency devaluation to promote growth through exports.
"It's true that our economy is still under downward pressure," Li was quoted as saying in an interview with the Financial Times. "It won't be easy to achieve another 7 percent growth this year."
His remarks came a day after China's economy was shown to have grown 7 percent since the start of 2015, a level not seen since the 2009 global financial crisis, as growth in exports, investment, manufacturing and domestic demand all foundered.
Li told the newspaper, however, that China could not rely on devaluing its currency to lift Chinese exports.
"We don't want to see further devaluation of the Chinese currency because we can't rely on devaluing our currency to boost exports," Li was quoted as saying.
He was also reported as saying that China does not want to see "major economies trip over each other to devalue their currencies" as that would lead to a "currency war".
Li said while China is on the receiving end of deflation due to falling global commodity prices, China is not in deflation, the Financial Times reported.
He added that China would welcome steady growth in its property market, but the government would guard against housing bubbles.
China's real estate market has been a major source of worry in recent years, as it alternated between exuberant growth that fed fears of an asset bubble, and a sharper-than-expected cooldown that has weighed on the broader economy.