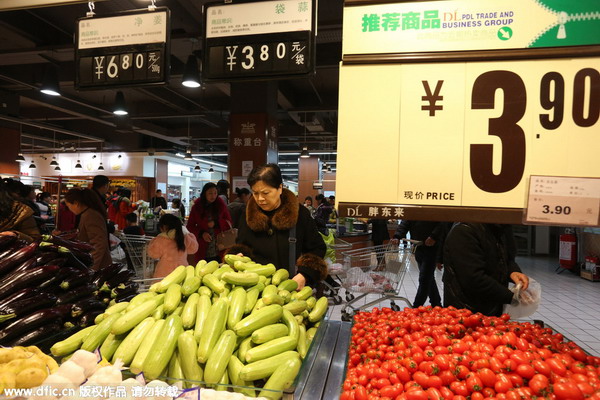 People choose agricultural products at a local market in Xuchang, Henan province, March 1, 2015. [Photo / IC]
China's inflation data for March produced small positive surprises, but remained tepid, with little sign that Beijing's easing measures to date have significantly cut worrisome deflationary pressure.
That has led many to predict more easing measures in the pipeline, including more cuts to reserve requirement ratios for banks, although there is debate over how effective those might be at juicing inflation.
In March, China's annual consumer inflation rate (CPI) stayed flat at 1.4 percent, above a poll's projected 1.3 percent. Producer prices (PPI) fell slightly less than projected, contracting 4.6 percent rather than the forecasted repeat of February's 4.8 percent pace.
The March inflation data is the first in a batch of key economic data that will climax with release of first-quarter growth numbers on April 15. A Reuters poll expects growth to be a six-year low of 7 percent.
Pressure on margins
PPI has now been in negative territory for three years, highlighting sustained pressure on profit margins at Chinese companies - in particular heavy industry - as Beijing struggles to restimulate headline growth.
The higher-than-expected CPI was driven by a sudden rise in pork prices, which have been a drag on CPI every month since December 2013.
But consumer inflation is still far short of Beijing's official 3 percent target for 2015, and some economists see that goal at risk.