Leading Chinese institutions are seamlessly transitioning into the global financial system by establishing branches across Europe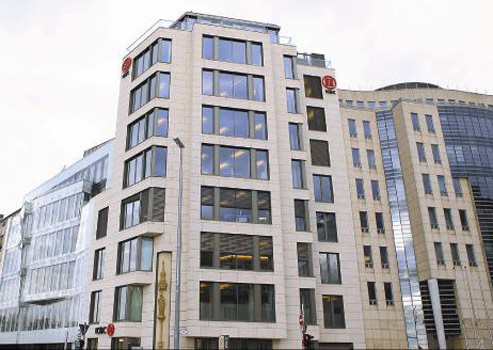 Industrial and Commercial Bank of China's office in Luxembourg. [Cecily Liu/China Daily]
Chinese banks are increasingly expanding into Europe to better internationalize the renminbi and integrate China's financial services into the global financial system.
The expansion has provided European investors opportunities to invest in China's domestic market and Chinese banks in Europe the flexibility to contribute to the continent's development of offshore renminbi activities, which is increasingly important for international trade and finance.
The largest Chinese banks currently have overseas operations in major European financial centers such as London, Frankfurt, Paris and Luxembourg.
In Luxembourg, for example, Bank of China, Industrial and Commercial Bank of China and China Construction Bank have already established their European headquarters. BOC was the first Chinese bank to open a branch in the city, back in 1979.
In 1991, BOC then opened a subsidiary in Luxembourg to prepare for the bank's expansion into other European countries using the European Union's single passport policy. Five branches managed by BOC Luxembourg were subsequently established in Rotterdam, Brussels, Warsaw, Stockholm and Lisbon.
ICBC's expansion in Luxembourg follows a similar path. It established a representative office in 1998, which was quickly upgraded to a branch in 1999. In 2006, ICBC established a subsidiary in Luxembourg to prepare for the bank's continental expansion.
In October 2013, China Construction Bank became the third Chinese lender to set up European headquarters in Luxembourg.
Nicolas Mackel, CEO of Luxembourg for Finance, an agency for the nation's development of the financial center, said the expansion of Chinese banks in Luxembourg has played a key role in helping the landlocked country grow its offshore renminbi activities. He said that Chinese banks have greatly contributed to the city's renminbi deposits and loans.
Mackel said a number of European financial hubs are cooperating by building off each of their strengths to create offshore renminbi activities.
Luxembourg's strengths, for example, in fund management, asset management and bond listing, help explain the high number of Luxembourg-incorporated funds investing in China and the large number of dim sum bonds-bonds issued outside China but denominated in the yuan-listed on the Luxembourg Stock Exchange.
BOC was also the first Chinese bank to establish in London. It opened an agency office in November 1929 with five employees and upgraded it to a branch in 1946.
BOC's footsteps in London have, in recent years, been followed by a number of Chinese banks, including private banks such as Shenzhen-based China Merchants Bank and Shanghai-based SPD Bank, both of which have established representative offices in London.