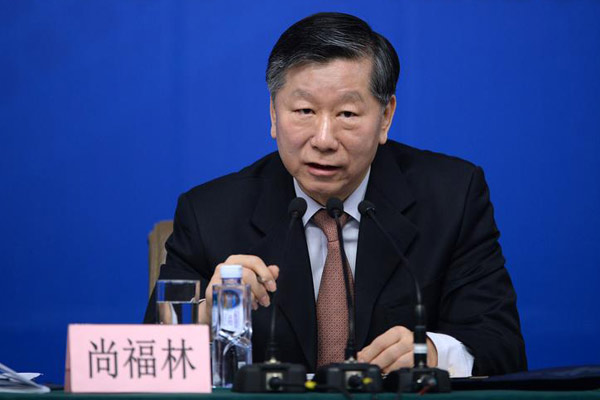 Shang Fulin, chairman of China Banking Regulatory Commission, speaks at a press conference during last year's two sessions in Beijing, March 11. [Photo/Xinhua]
Commercial banks must overhaul their profit models from traditional ones to address the narrowing interest margin, urged Shang Fulin, chairman of China Banking Regulatory Commission.
The model relying on the lucrative gap between lending and savings rate is no longer sustainable, as the proportion of interest income has declined, Shang said in an article in China Banking magazine on Tuesday.
Interest income accounted for only 48 percent of the total earnings among Chinese commercial banks in 2014, down 7.3 percentage points from three years ago, he added.
Shang said China's banking industry should seek profits from risk management and the pricing of financial products, while lowering operation costs.
Market participants should more carefully analyze the "new normal" within the banking industry, and actively respond to the challenges and risks under the "new normal".
The growth of banks' loan decreased to 13.5 percent last year, 6.5 percent lower than the average growth speed in the past five years, and the stable growth will be the long-term trend for China's banking industry, he said.
China's commercial banks' non-performing loan was 842.6 billion yuan ($137.46 billion) by 2014, and the ratio of commercial banks rose to 1.25 percent by the end of 2014, 0.25 percentage points higher than the beginning of the year, according to an earlier Xinhua report.
Chinese banks "must accelerate their transformation and upgrading by restructuring their asset and profit structure and regional layout of branches," said Yang Kaisheng, former president of the Industrial and Commercial Bank of China (ICBC) on Tuesday.
China's central bank announced a benchmark rate cut by 25 basis points on Saturday, lowering the one-year benchmark lending and savings rate to 5.35 and 2.5 percent respectively.
The bank at the same time increased interest rate flexibility by raising the ceiling for the floating savings rate to 1.3 times the benchmark rate, up from 1.2 times.