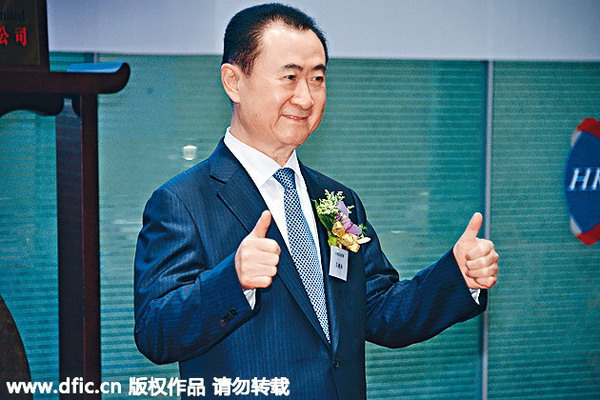 Wang Jianlin, chairman of Dalian Wanda Group, beats Jack Ma to the title of the richest man on the Chinese mainland on the 2015 Forbes Billionaires List. [Photo/IC]
China will become the biggest generator of billionaires during the next decade, with a survey estimating that 154 new billionaires will emerge in the country.
In the next 10 years, China will account for two-thirds of the top 30 billionaire-producing cities in the world, according to Wealth Report 2015, which was jointly released by real estate consultancy Knight Frank and Bank of China International on Tuesday.
The report tracks the growing number of the super-rich in 108 cities in 97 countries, which finds that Asia overtook North America to be the second-largest region in terms of the increase in ultra-high net worth individuals in 2014.
"The rise of Asia and its subsequent impact on prime property within the region and beyond has been one of the key narratives highlighted in the Wealth Report," said Nicholas Holt, head of research for Asia-Pacific with Knight Frank.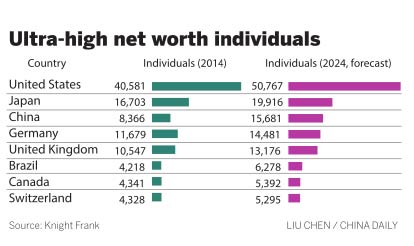 Among the most important cities to the ultra-high net worth individuals, who owns a net worth of $30 million or more, Shanghai ranks 5th and Beijing is rated 9th this year.
The top 10 cities are London, New York, Hong Kong, Singapore, Shanghai, Miami, Paris, Dubai, Beijing and Zurich. By 2025, Shanghai and Beijing will be in 5th and 6th place, with Hong Kong third on the top 10 list, the survey forecast.
"The rising importance of Chinese cities reflects the influence of China's economic power over the past decade and in the next 10 years," said Ji Yanxun, director and head of research and consultancy for China at Knight Frank.
Property is increasingly regarded as a major investment class by the ultra-rich. For Asian UHNWIs, residential property is the most popular investment choice, with 84 percent of wealth advisers in Asia saying their clients were becoming more interested in it, followed by 68 percent in the office sector.
An average of 4.7 homes are owned by a Chinese mainland-based UHNWI, and 4.6 homes by each of those from Hong Kong-the two groups with the largest number of homes globally. In recent years, there has been a growing trend for more wealthy Chinese to buy properties in developed countries, said Yang Yuechen, director and head of research and consultancy at Knight Frank Shanghai.
"We expect, in the next 10 years, real estate investment will still maintain a significant portion in the asset allocation of Chinese ultra-high net worth individuals, despite the fact that some other countries measure to prevent local house prices from rising as a result of increasing inflows from Chinese investment," said Yang.