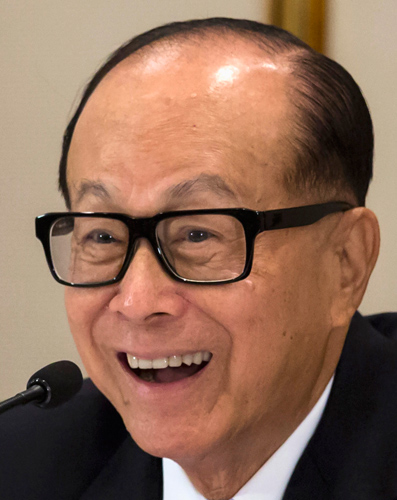 Li Ka-shing, chairman of Cheung Kong Holdings Ltd
Li Ka-shing is set to regain his spot as Asia's richest person as flagship Cheung Kong Holdings Ltd's shares surged the most in 17 years following his announcement of a $24 billion reorganization plan.
The 86-year-old Hong Kong tycoon has a $30.8 billion fortune based on the trading of his shares. That puts him almost $3 billion ahead of Jack Ma, the billionaire chairman of Hangzhou-based Alibaba Group Holding Ltd, who's worth $28.2 billion as of Friday, according to Bloomberg Billionaires Index.
The increase in Li's wealth is set to make him the 15th richest person in the world, overtaking European retail billionaires Bernard Arnault and Stefan Persson.
Li proposed to restructure the assets of his companies into two new entities with specific focuses: one on property mainly in Hong Kong and the mainland, and the other on global assets from utilities and ports to retail stores across more than 50 countries.
"This reorganization is far from a surprise and has long been discussed," Andrew Lawrence, an analyst with CIMB Group Holdings Bhd, wrote in a research note on Monday. "It will make for a cleaner corporate structure and remove many of the cross-group investments that made it difficult to understand the group."
Cheung Kong shares jumped as much as 20 percent, the biggest intraday advance since February 1998. At the close in Hong Kong, the stock was up 14.74 percent at HK$143.20 ($18.47). Hutchison Whampoa Ltd, which is 50 percent controlled by Cheung Kong, climbed as much as 18 percent, the most since October 1997.
More than half of Li's wealth is derived from Cheung Kong, which had declined 4.2 percent this year before Monday's surge.
Alibaba's Ma, 50, last month overtook Li as Asia's wealthiest, the first change in Asia's top spot since April 2012.
Ma added about $25 billion to his wealth last year, riding a 54 percent surge in the company's shares since its September initial public offering.
Li's proposal will help streamline the structure of his companies and make it easier for shareholders to choose which businesses they want to invest in.
"We would see the reorganization as beneficial to shareholders and, thus, retain our overweight on Cheung Kong," Barclays Plc analysts Paul Louie and Iris Poon said.