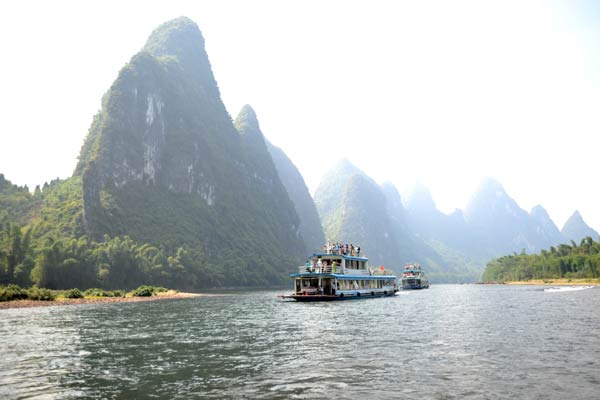 Tourists travel on the Lijiang River in Guilin, Guangxi Zhuang autonomous region. Local tourist officials say the river boat tour program will be upgraded to use better boats. [Photo/Xinhua]
BEIJING - The World Bank has approved a loan of $100 million to China to support water management and anti-pollution efforts for the Lijiang River in tourist city of Guilin, in south China's Guangxi Zhuang autonomous region.
The project, which will run from 2015 to 2020, will focus on improving water supply, and wastewater collection and treatment in Guilin, the World Bank said in an email to Xinhua on Tuesday.
It will also enhance sewage treatment, and strengthen water quality monitoring and pollution management, which will benefit local communities and tourists, according to the World Bank.
In recent years, the Guilin city government has taken steps to maintain the water quality of the Lijiang River, including relocating industry, building wastewater treatment plants and landfills, and rehabilitation of tributaries.
Sing Cho, the World Bank's Urban Specialist and task team leader for this project, said in the email that the new project would support efforts by the local government and build on the World Bank's experience.
A previous World Bank project in Guilin, implemented between 1998 and 2007, focused on improving the environment in Guilin's core urban area by improving wastewater collection and treatment, and solid waste management.
Tourism accounted for almost 20 percent of economic output in 2012 in Guilin, an area known for its iconic river and karst formations.