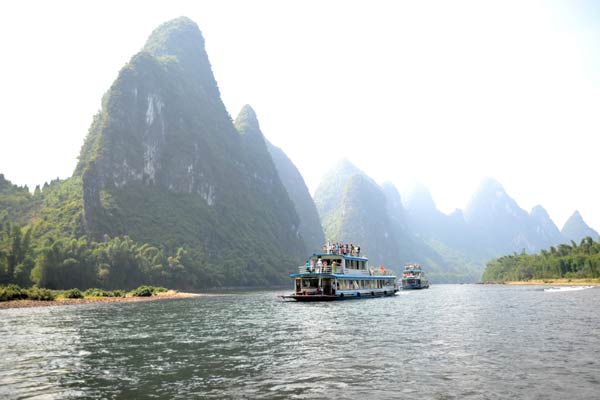 Tourists travel on the Lijiang River in Guilin, Guangxi Zhuang autonomous region. Local tourist officials say the river boat tour program will be upgraded to use better boats. [Photo/Xinhua]
In China today, being late in development can be a fortunate thing.
Cities in its western frontier regions, once looked down upon as lagging behind in industrialization, can nowadays easily generate tourist revenues from people escaping from the maladies-not least, the bad air-of the business and industrial cities on the east coast.
Along with the changing times and lifestyle, Guilin, once a laid-back (it still is, as compared with other Chinese cities) city in Guangxi Zhuang autonomous region, has entered a golden age of opportunity, according to Tang Zongyuan, the city's mayor.
Officials are ready to use whatever resources are available to them to make the city a leading tourism star in the forthcoming age of 1.3 billion new middle-class consumers, Tang told China Daily.
Tourism and hospitability, and the services industry in general, will remain the focus of Guilin's development efforts in coming years.
The city will make full use of its "late-development advantage", Tang said, particularly its better-protected environment and low manufacturing intensity, which ensure industrial pollution remains low.
Guilin has long been famous for its natural scenery, mountains and water, so often featured in traditional Chinese brush paintings.
Hundreds of steep rocky hills are strewed across the area in geographical formations, which scientists call Karst terrain.
Elsewhere in the country, Karst terrain is usually characterized by barren, rocky ground, caves, sinkholes, underground rivers, and the absence of surface streams and lakes.
But thanks to the usually warm weather and rich rainfall of southern China, Guilin's hills form a picturesque landscape, surrounded by lush vegetation and divided by a still largely unpolluted river, the Lijiang.
Much of its tourism development effort will focus on Lijiang, Tang said.
Every tourist to Guilin will want a boat trip on the river, usually from the city's north pier to Yangshuo, a suburban town 65 kilometers downstream.
Part of Yangshuo has already become an international settlement, lined with shops and restaurants catering to the thousands who arrive by boat.
The town was recently rated by Chinese Internet users as one of the five places in the country young backpackers were most likely to run into potentially "romantic encounters"-more favored than any of the east coast cities.
The mayor calls the Lijiang "our city's lifeline", and the river already has its own pollution-control system, including workers on the riverbank collecting litter.
He said the city's public infrastructure priority is to enrich the river's resources, and enrich its attractiveness, by maintaining water levels, even during the dry cold season.
But he promises that what is being done on the river is still "child's play" compared with what officials are planning within China's 13th Five-Year Plan period (2016-20)-an investment package worth 20 billion yuan ($3.24 billion).
A key part of the river's infrastructure plans will be an upstream reservoir, targeted to start operation between 2016 and 2017, which will serve as an "all-season guarantee" for the river's water supply.
After that, local tourist officials say the river boat tour program will be upgraded to use better boats and accommodate more visitors.
Centering on its improved river system, the city's tourist services will develop in an all-year-round way, ranging from new hotels to new programs, which Tang envisages will "result in more visitors, staying here longer".