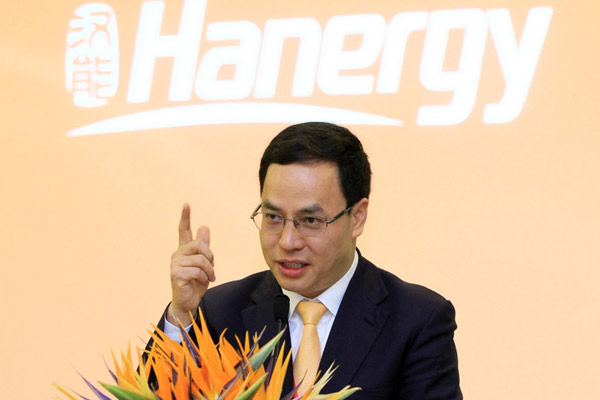 Li Hejun speaks at a press conference at the 2013 Boao Forum of Asia in Boao, Hainan, April 7, 2013. [Photo/IC]
"New Energy King" Li Hejun, 48, is now the richest man in China and Bill Gates takes the top spot in the world, according to Hurun Report published by the Hurun Research Institute on Tuesday.
Li is the board Chairman and CEO of Hanergy Holdings Group Limited, a Beijing-based thin-film photovoltaic solar panel manufacturer.
The number of world's billionaires grew by 222 to 2,089 with 649 seeing their wealth increase in a record-breaking year for the wealthy, said the Hurun Global Rich List 2015. China's stock market boom became a key driver for 72 new faces. The United States saw 56 enter the list for the first time.
A total of 649 saw their wealth rise and there were 341 new faces. Two hundred and thirty remained unchanged and eight hundred and sixty nine saw their wealth decrease. Ninety-five dropped out of last year's list.
The collapse of the Russian rouble, brought about by a stagnating Russian economy, sanctions due to Ukrainian conflict and cheaper global oil price, saw the wealth of 60 percent of Russian billionaires decline, led by Sistema's Vladimir Yevtushenkov, 77 percent drop, and Lukoil's Vagit Alekperov, 73 percent fall.
Although the list expanded by 222 individuals, the total wealth dropped by 1.5 percent to $6.7 trillion, still more than the GDP of Japan and South Korea combined.
The average age of the billionaires is 64, same as last year.
Rupert Hoogewerf, Chairman and Chief Researcher of Hurun Report, said:"Technology has been leading the way again for new billionaires. It's all eyes on the new economy."
China, with 430 billionaires, ranks second in terms of the number of billionaires, 72 more than last year.
The combined net worth of the Chinese billionaires is $1.2 trillion. Real Estate generated most number of billionaires, 119.
Led by Hong Kong and Beijing, five Chinese cities made the top 20 cities. Hong Kong has 71 billionaires, Beijing 68, and Shenzhen 34 billionaires. Average age of the Chinese billionaires is 58. Three hundred and ninety five are self made and 35 inherited their wealth.
China is the number 1 in the world in terms of most self-made billionaires–90 percent of all the Chinese billionaires are self-made.
Related story: Chinese firm Hanergy to develop solar-powered car, by Du Juan
Privately held renewables company Hanergy Holding Group Ltd announced on Monday that it will develop a totally solar-powered car that can go into commercial production in October.
Li Hejun, founder and chairman, said that mobile energy will revolutionize the new material, advanced manufacturing and energy-conservation industries.