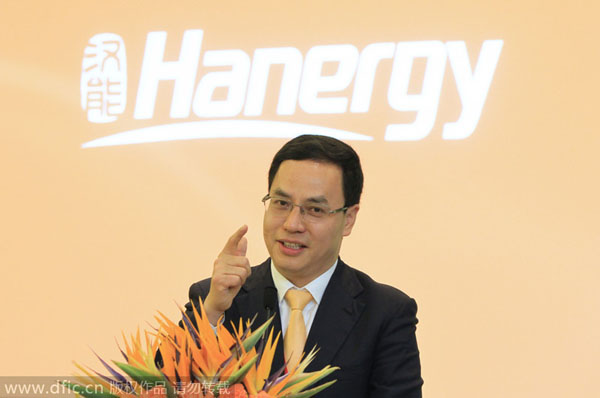 Li Hejun, Chairman and CEO of Hanergy Holding Group Limited, speaks at a press conference during the Boao Forum for Asia Annual Conference 2013 in Qionghai city, South China's Hainan province, April 7, 2013. [Photo/IC]
Hanergy Thin Film Power Group Ltd, the Chinese solar-equipment manufacturer whose market value surged to $19 billion within a two-month period, downplayed a report in the UK's Financial Times newspaper that questioned how it reports sales.
The company controlled by billionaire Li Hejun said its Beijing-based parent has already repaid the majority of the HK$13.9 billion ($1.79 billion) it owes for building solar production plants and that the rest will come when projects are finished.
The company is also seeking to diversify revenue beyond parent Hanergy Holding Group Ltd, the Hong Kong-listed unit said.
"While the company has been relying mainly on sales contracts with Hanergy Group, it has recently expanded its downstream photovoltaic power generation business," said Hanergy Thin Film in a statement on Friday.
The unit's shares have doubled since the middle of November, valuing the maker of thin film solar products at HK$151 billion, or almost five times the market capitalization of US-based First Solar Inc, the world's biggest developer of solar farms.
The Financial Times on Jan 28 drew attention to Hanergy Thin Film's disclosures that the parent company is one of the unit's biggest customers. Almost all of Hanergy Thin Film's reported revenue since 2010 has been from equipment sales to Hanergy Group, the FT said.
The company's 2013 annual report showed that only 35 percent of the contracts with the parent had been settled and that the balance was held as receivables, the newspaper said, citing an analysis of financial statements.
Hanergy Thin Film Chief Executive Officer Frank Dai Mingfang told the FT the concerns are a result of misunderstanding Hanergy's product line. The company's statement took a similar stance.
"According to the master agreement entered into between the company and each customer, including the Hanergy Group, the customer will settle the contractual sums in stages according to various phases of the project," Hanergy said in Friday's statement.
Ikea, the world's biggest home-furnishing retailer, said in September 2013 that it had tied up with Hanergy Thin Film to sell solar-panel systems in its 18 UK stores.
The Chinese company also had eight power projects come online and another nine enter the construction phase, according to its interim report.
"Time will tell whether the company's diversification push succeeds," said Charles Yonts, head of sustainable research at brokerage CLSA Asia-Pacific Markets in Hong Kong.
"If the equipment is that good, they would probably want to keep it all in-house."
Hanergy Thin Film has posted profit for four consecutive fiscal years, according to earnings statements. Net income rose to HK$1.73 billion in the six months ended June 30, from HK$1.44 billion a year earlier, the company said on Aug 29. Company executives have also said China's support of clean energy and its plans to expand solar power sector benefits them.
The nation plans to add 15 gigawatts of solar power this year, according to a report last week in the Shanghai Securities News. China installed 13 gigawatts of solar capacity in 2014, according to data from Bloomberg New Energy Finance.