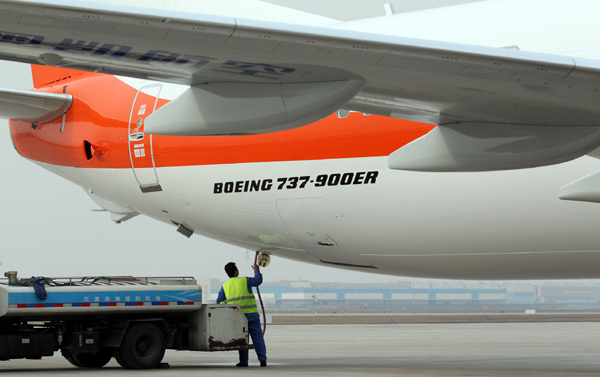 A Boeing 737-900ER aircraft, delivered to Okay Airways, lands in Tianjin on Monday. [Photo provided to China Daily]
Tianjin-based Okay Airways on Monday became the first carrier to operate the Boeing 737-900ER (extended range) aircraft in China, after it took the delivery from the US company.
The aircraft will be part of the eight 737-900ER orders made by Okay Airways and the rest of the units will be supplied by Boeing before the end of next year. Boeing 737-900ER is the largest member of the 737 family and has better passenger capacity and range, when compared with other narrow-body airplanes.
Okay Airways' new airplane is configured with 200 seats in a single-class layout and it will fly on popular tourist routes like Tianjin-Haikou and Tianjin-Sanya from Wednesday.
"The 737-900ER will further strengthen Okay Airways' fleet of existing 737s by adding more range and capability," said Ihssane Mounir, senior vice-president of Boeing Commercial Airplanes' sales for Northeast Asia.
With the new addition, Okay Airways' fleet size has gone up to 28, including 13 Boeing 737-800 passenger aircraft. The carrier plans to have 30 airplanes in operation by the end of this year.
Liu Jieyin, the carrier's board member, said: "The economic performance of our flights is so good and the small airplanes cannot satisfy the market demand." He said the carrier's flights to Sanya are already running at full capacity and this has prompted the need for larger aircraft.
At the same time, China's fast-growing outbound tourism market is also providing huge business opportunities for the carrier, which also operates 10 routes to neighboring countries.
"The load factor of our international routes is at about 80 to 90 percent now," Liu said, and the profit from international routes is about 20 percent higher than the domestic routes. Routes to Japan would be launched this year, he said.
Okay Airways also has a specific plan of aircraft purchases, as it has huge ambitions in the international market. Airplanes with a range of 7,000 kilometers and above will be introduced by the carrier in 2016 or 2017 to develop routes to Europe, Liu said, although the carrier is yet to decide which type of aircraft it wants to use on these routes.