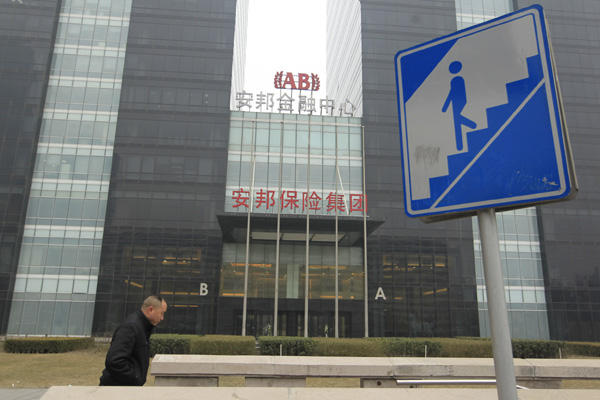 The headquarters of Anbang Insurance Group Co Ltd in Beijing. The insurer has been building a financial empire in the past few years by purchasing stakes in banks and real estate developers. [Photo provided to China Daily]
Anbang Insurance Group Co, a little-known Chinese insurer until last year, has gained sudden prominence in the financial and capital markets after a string of high-profile domestic and international acquisitions, raising questions about its shareholders' background and concerns of possible risks behind its aggressive expansion.
The company has been rapidly building a financial empire over the past few years by purchasing stakes of the country's banks, insurers and real estate developers, while extending its reach to financial leasing, asset management and securities brokerages through the operation of its 10 subsidiaries.
Anbang also made international headlines last year by purchasing the landmark Waldorf Astoria hotel in New York at a record price of $1.95 billion before acquiring Belgian insurer Fidea NV and Delta Lloyd Bank Belgium.
In less than one year, the company has managed to boost its registered capital from 12 billion yuan ($1.92 billion) to 61.9 billion yuan, making it China's largest insurer by that measure.
As of Monday, the company claimed to have total assets of more than 700 billion yuan. Some analysts believe that it is possible that Anbang may soon become the country's largest insurer by asset value, surpassing Ping An Insurance Group Co of China Ltd.
Anbang's rapid expansion can be explained by massive capital injection from its shareholders as well as its abundant cash flow gained through the sales of high-yield insurance products through bank counters, analysts said.
The company's Chairman and Chief Executive Wu Xiaohui, a businessman from Wenzhou, Zhejiang province, has been known for his deep connection with the children of China's revolutionary veterans and leaders.
Wu's political connection has helped Anbang attract massive amounts of capital from its shareholders, which supported the company's investment and acquisitions at home and abroad.
But some analysts expressed concerns about the long-term investment returns of Anbang and the sustainability of its aggressive expansion as the company's insurance premium income has been less impressive compared with its high-profile acquisitions.