US thin-film solar panel maker sees strategic partner in Chinese firm
China's largest privately owned clean power generator by output, Hanergy Holding Group Ltd, said on Wednesday it has bought MiaSole, a California producer of thin-film solar panels.
The purchase marks the second overseas acquisition by the company.
As the first overseas transaction between China and the US solar industry so far this year, the deal was described by Hanergy Chairman Li Hejun as a "good Chinese guy" marrying a "daughter" of John Doerr - a reference to the American venture capitalist who invested more than $500 million in MiaSole during its development.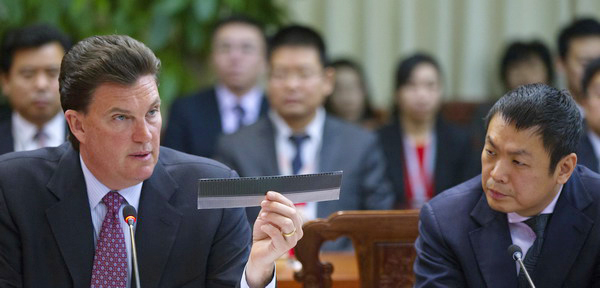 John Carrington, CEO of MiaSole, shows a piece of the company's thin-film solar panel to executives of Hanergy Holding Group Ltd at a news conference on Wednesday in Beijing. [Photo / AP] 
Li did not disclose the exact value of the deal, but said it is about a tenth of the initial $1.2 billion asking price.
He said the company decided to wait a while after getting in touch with MiaSole last year, considering the high price, and the US company later approached Hanergy for cooperation.
Some media reports said the price was $30 million, but Li said this was the money Hanergy agreed to repay to MiaSole's creditors as part of the purchase.
MiaSole's backers invested more than $550 million in the company during the past 10 years and its current market value exceeds $2 billion, according to the company.
Li said capital for the deal came from Hanergy's hydro and wind energy businesses. The company started the business as a hydropower generator and says it owns 6 gigawatts of hydro generating capacity.
"The money is not a problem," said Li. "We will continue to cooperate with other US companies and expand our market share in Europe."