Related stories: Panasonic joins trend of reshoring out of China by Wang Zhuoqiong and Li Xiang, China Daily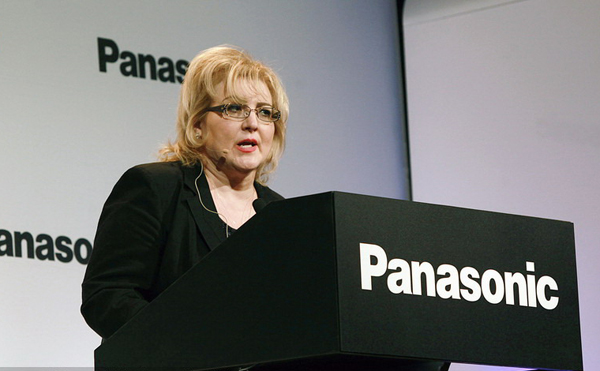 Julie Bauer, president of Panasonic Consumer Electronics, speaks at a press event during the 2015 International Consumer Electronics Show on Jan 5, 2015 at Mandalay Bay Convention Center in Las Vegas, Nevada.[Photo/IC]
Panasonic Corp plans to transfer most of its domestic appliance production in China back to Japan starting in the spring, a response to the weaker yen and a jump in labor costs in China.
It is one of several Japan-based companies making such a move.
Panasonic President Kazuhiro Tsuga said in an interview on Tuesday, according to Kyodo News, that the company will move its washing machine and other home appliance production back to Japan and export products that are made in Japan to other markets.
Panasonic plans to export about 40 types of home appliances made domestically to Asian markets.
Tsuga did not reveal the location of the reshored factories. But microwave ovens and top-loading washing machines, which are almost all made in China now, will be the first products for which production is resumed in Japan at factories in Shizuoka prefecture and Kobe, respectively.
Panasonic said that a 1 yen drop against the dollar reduces profit by about 1.8 billion yen ($15.1 million) on an annual basis. If the yen stabilizes at 120 to the dollar, this will cause a significant decrease in profit even if the company cuts back on costs, according to the Yomiuri Shimbun.
Panasonic China's public relations office said it had not heard of such plans or decisions, and it declined to comment further.
It would be the first such large-scale reshoring of the company's foreign production. After 35 years operating in China, Panasonic has three plants in Hangzhou, Guangzhou and Shanghai.
Rising labor costs in China are also driving the relocation of Japanese factories, said Su Liang, branding director of the China Home Appliance Research Institute.