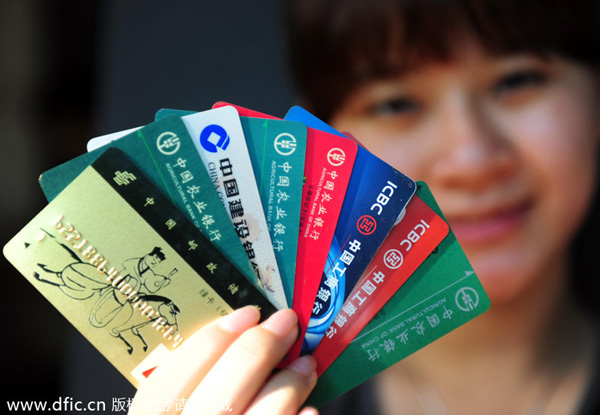 A Chinese woman shows credit cards and other bank cards in Qionghai city, South China's Hainan province, April 14 2012. [Photo/IC]
Income inequality in China narrowed last year, a silver lining to the cloud of a cooling economy that grew at the slowest pace since 1990, the National Bureau of Statistics reported on Tuesday.
The Gini coefficient, an internationally used indicator of a country's wealth gap, stood at 0.469 in 2014, down from 0.473 in 2013, according to the NBS.
A Gini reading of 0 represents perfect equality, while a reading of 1 suggests perfect inequality.
The index, which dropped for a sixth consecutive year from the high level of 0.491 in 2008, was read by analysts as a positive signal amid the country's reform to cap the income of top executives of State-owned enterprises and pension reform which requires government and public institution employees to contribute to their retirement plans.
Disposable per capita incomes grew faster than gross domestic product last year, increasing 8 percent year-on-year in real terms-that is, adjusted for inflation. Rural disposable incomes rose 9.2 percent, faster than the 6.8 percent gain recorded for urban residents, the NBS said.
The country's unemployment rate stood at 5.1 percent, while 13.22 million new jobs were created, surpassing the full-year target of 10 million, the data showed.
While China's Gini coefficient remains above the international warning level of 0.4, analysts said the steady growth of household incomes and narrowing inequality will likely lead to a growth of the middle class and consumption and the service sectors. These will be the new growth engines for the economy.
"The expansion in the service sector was stable, the unemployment rate remained under control, household income (growth) surpassed economic growth, and income inequality started to narrow. These are important features in China's economic rebalancing process," Zhu Haibin, chief China economist at JPMorgan Chase & Co, said in a research note.
A broad-based salary hike in China is expected soon, with Beijing having issued guidelines to raise the salaries for civil servants and public employees.