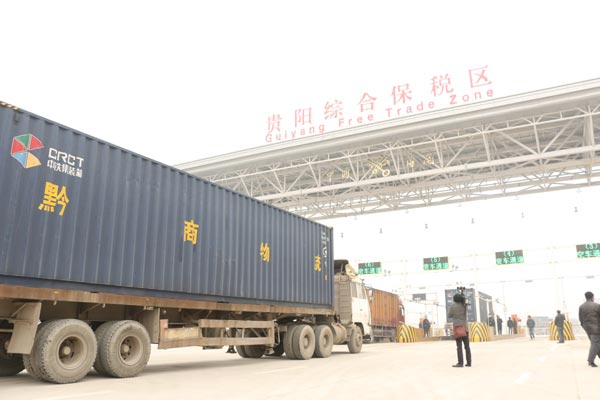 The first truck enters the Zone, Dec 27. [Photo/chinadaily.com.cn]
On Dec 27, seven trucks loaded import equipment into the Guiyang Free Trade Zone, signaling the start of operations at the zone.
Meng Qiliang, vice-governor of Guizhou province, said Guiyang Free Trade Zone's running is a significant step in Guizhou's opening its doors to the outside world, which will bring the openness of Guizhou onto a new stage. He also said that the zone made a big progress in construction, investment promotion and policies innovation.
Up to now, 102 enterprises have registered at the zone, including HP, ZTE, Power China, CTTIC, Huawei, UBS, Foxconn, etc. Seventy-two of them have already registered at industrial and commercial bureau.
According to an official, when the construction finishes, it will spur economic growth and total export-import volume will be around $10 billion.
The Free Trade Zone is located in Baiyun district,Guiyang, with a planned area of 3.01 sq km. Approved by the State Council on Sept 14, 2013,it only took a few months to do the construction, which means the highest approval efficiency and the fastest construction speed.
The Free Trade Zone, integrating functions of bonded export, bonded logistics and ports, has the most comprehensive functions and the best policies among all the special zones supervised by Customs in China.
When Guiyang Free Trade Zone officially starts operation, companies inside the zone can conduct various businesses, including manufacturing, logistics, trade, international transit, distribution and product showcasing.
In accordance with policies and its strengths, the development of aviation, electronics (big data), healthcare industry, electronic information, and new materials will be prioritized at the zone.