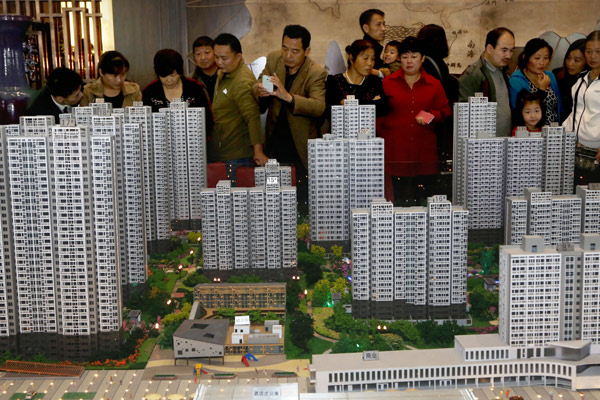 Potential home buyers check out models of upcoming property projects at a real estate company in Xuchang, Henan province. A report published by a unit of the Chinese Academy of Social Sciences' said realty prices will fall 5 percent in 2015.[Geng Guoqing / for China Daily]
Report says oversupply in first-and second-tier cities will suppress sales
Home prices are set to decline further next year and cities that still restrict multiple-home purchasing are expected to scrap the policy, a report by an institute under the Chinese Academy of Social Sciences said on Friday.
Property downturn since the beginning of the year had prompted most of the cities in which there were restrictions on home purchases to ease them. There are only five cities where the curbs are still in place - Beijing, Shanghai, Guangzhou, Shenzhen and Sanya.
"The first- and second-tier cities have entered a relatively oversupply period. Home prices would continue to drop and restrictions are expected to be eased completely," said Zou Linhua, a researcher with the National Academy of Economic Strategy, under the CASS.
Most of the immigrant population in Beijing and Shanghai, especially those who do not have a local hukou (household registration), are barred from buying property unless they have met stringent criteria (for example a five-year non-stop payment of social security).
Lifting that restriction is expected to unleash huge demand. But many analysts said they believe that is not possible in the short term because policymakers are wary of the potent effect of that loosening.
However, some industry sources said they feel that marginal adjustments, rather than outright removal of the existing policy, is possible. For example, "five-year non-stop payment of social security" could be changed to an "accumulated five-year payment".
The central bank on Sept 30 eased mortgage rules to expand the pool of potential homebuyers and the amount they can borrow. Definition of "first-time homebuyers" was loosened so that mortgages on second homes would be treated as a first mortgage if the buyer has no other outstanding loans. Such loosening was considered "off the limit" before the move.
The CASS report estimated a 5 percent drop in home prices across the country in 2015. Annual sales are expected to fall by 12 percent while residential property investment is set to grow by 10 percent.
According to data from the National Bureau of Statistics, home sales in the first 11 months of the year fell by 9.7 percent from a year ago, while residential property investment grew by 10.5 percent.
First- and second-tier cities are expected to lead the recovery by the second half of 2015. Smaller cities would see the recovery in the second half of 2016, the report said.
Another report by China International Capital Corp drew a more optimistic outlook. Backed by a loose monetary policy, national home sales would turn to "growth" from "contraction" in the second quarter next year, and annual sales would grow by 3 percent, it said.